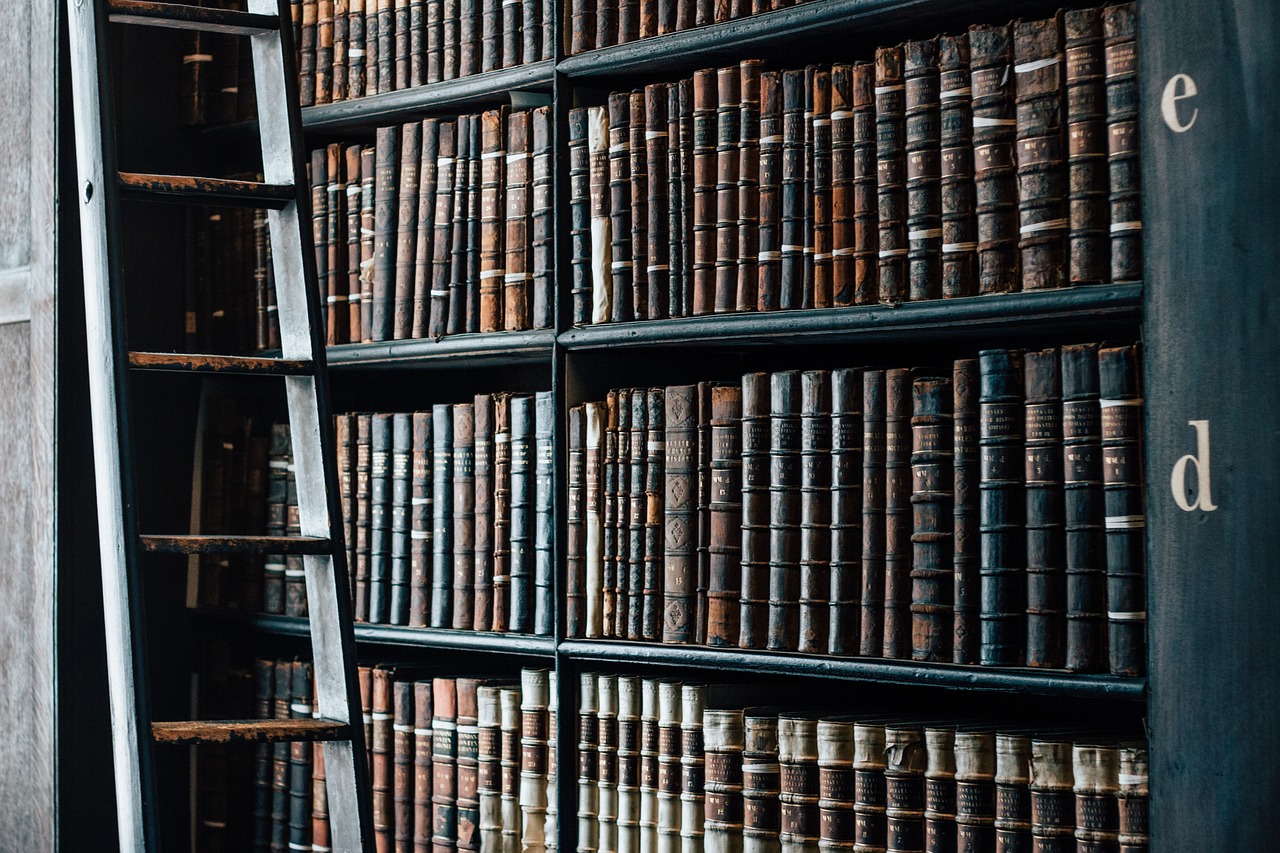 Welcome readers. I would like to introduce myself. My name is, Cole McNaughton, and I am the new staff member here at the Temiskaming Shores Public Library. I am a person who has always had a fondness for books and the activity of reading. Whether it be reading to my loved ones, for myself or even having others read to me the act has always finished with a feeling of a full and completed day. That is why making time to read is essential to our health even though picking out a new book to read can be tough sometimes.
The provincial government's current "roadmap to reopening" our local public library will be a few more weeks before permitting patrons within its doors. In the meantime we are continuing to serve curbside pickups and allowing a single patron in to access our computers and photocopiers.
With that being said, if you are like me where I prefer to physically browse titles but are limited by our current restrictions due to COVID-19 it can be challenging. We can often get stuck on what to read next or even where to begin searching. There are a few alternatives to discovering new reading material before our local public library opens its doors with Step Two, though. Some of these methods are as follows:
Discussing past reading material with peers.
Ask for a reading advisory with our local public library.
Access Novelist Plus – Read-alikes via our eResources page on our library's website.
A tried and truth method has always been discussing your favourite titles with friends, colleagues, family and strangers. If we are finding it difficult to make time for reading or even running into that hypothetical wall for choosing a new title this method of sharing our passions for reading can always rekindle that flame. Discussing with peers has always been a helpful way to expand our repertoire.
If peers are difficult to come by at this time then there is always the option of calling us here at the Temiskaming Shores Public Library and requesting a reading advisory. This is a nice way to let our staff find something potentially refreshing for yourself. We will discuss with you much the same way as the previous example except that you leave the searching and choices to us. We will then find a select number of titles to check out for you. It can be similar to having a blind date with a book, except we do our best to find a match for you based on the information you shared with us here at your local public library.
If you enjoy the idea of discovering new titles and genres on your own then there is always the option of accessing our website's catalogue page. This is a great online tool for perusing both our shelved and ebook titles. To reserve a physical copy of these titles simply log into your library account with your library card number and PIN, search for it, click on the book's image then find and click on the place hold button (see the image below).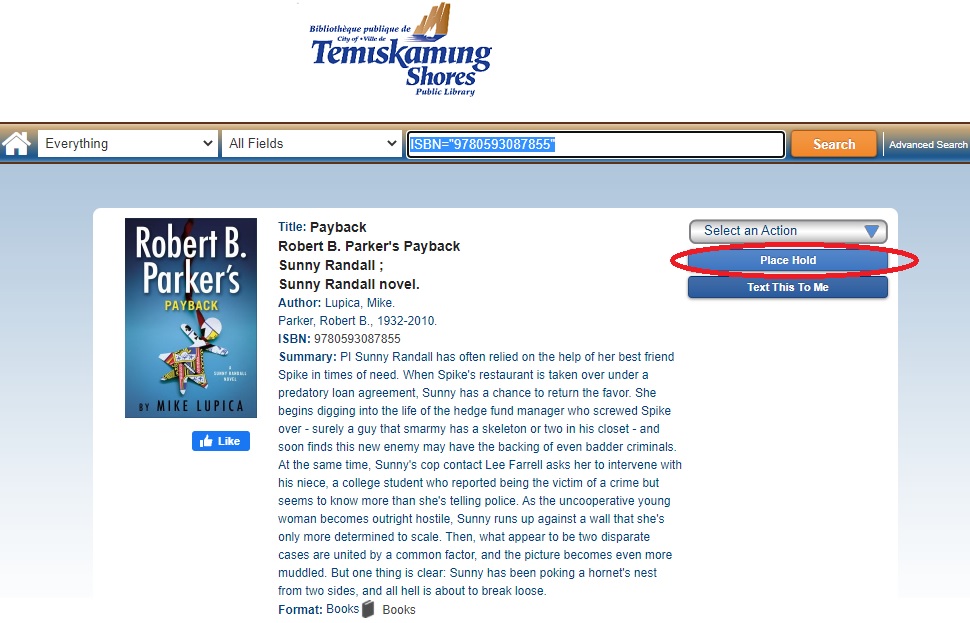 If the title happens to be an ebook or a digital audio book this hold button will be replaced with a download button that we can access through our public library's subscription with OverDrive. You will need to log into OverDrive in order to complete the download.
Now that we have found how to search our public library's stock we can discover how to find similar titles from books we have previously read. This can be done through using our eResource, Novelist Plus. One of the easiest ways to discover a new title on our own is through Novelist Plus' "Read-alike" section. Simply search up a title we have previously read; for example I will search Ender's Game and click on its cover image. If we look over to the far right side of our window we will see the "Read-alike" section. I can read up on either Armada or Starship Troopers and from there I can return to the public library's catalog section to see which is available. Armada is available as an audiobook and Starship Troopers has a physical paper copy to be checked out. At this point a hold may be placed on the item you would like.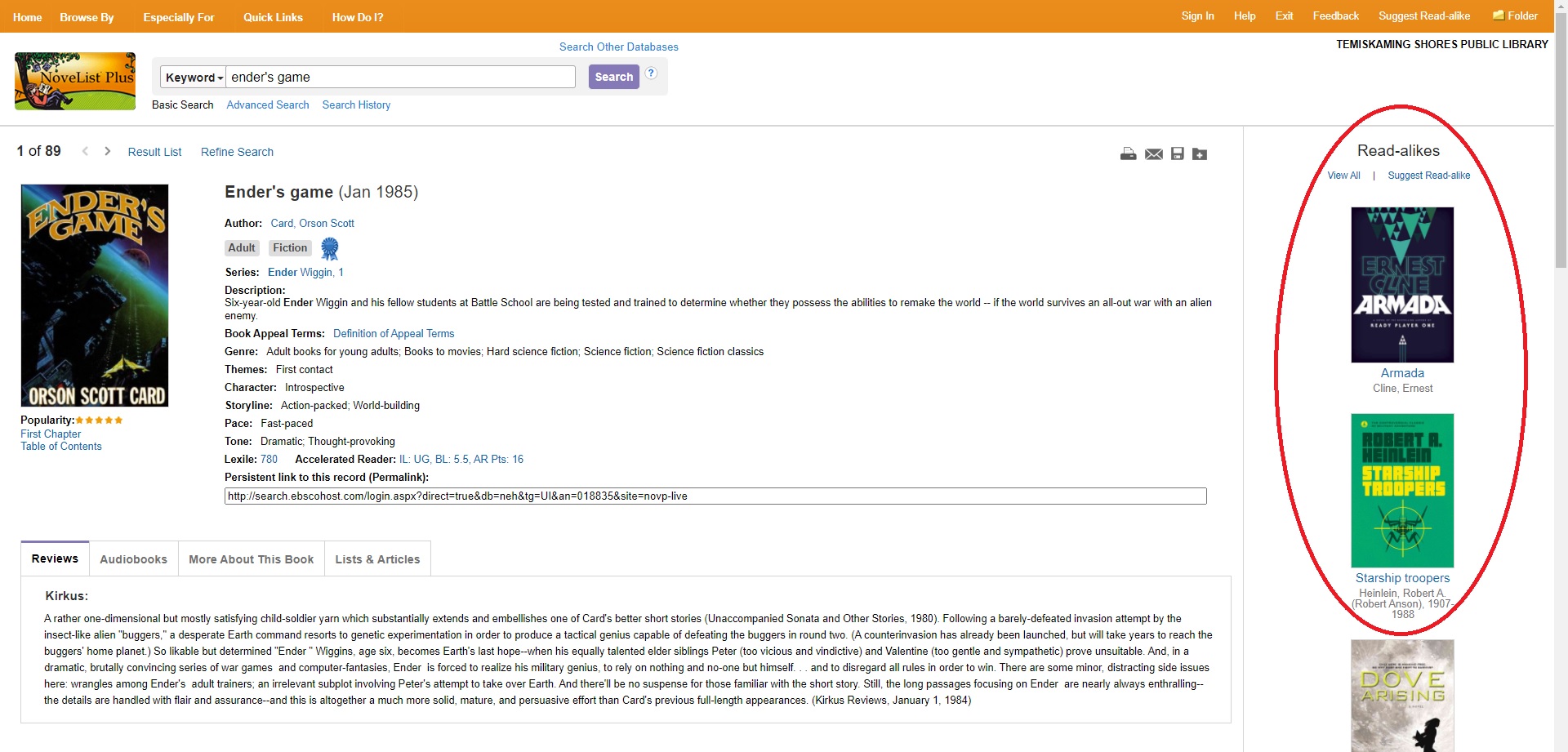 Hopefully these hints will help to keep you stocked up with good reading material for the entire summer. Here are links to the Novelist eResource and the library's online catalogue.
For more information about the library's eResources and other services, contact us at 705-647-4215.