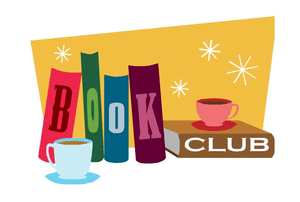 I've always wanted to be in a book club but have never had the privilege. The closest I've come is working the evenings when one of the library's book clubs would have their meetings.
I love reading and read for my own pleasure every day. I always squeeze in time for reading even if it's just fifteen minutes or so.
I have friends and family who are in book clubs and I'm always curious about how they're run and how the clubs go about choosing what books they will be reading. Every book club, I imagine is different, but for the most part it seems that voting on book choices, or each member choosing a title or two of their choice at the beginning of the club's year or season, is standard protocol.
Meeting once every month or two, depending on how much time they wish to give themselves to read the book, is the norm but not carved in stone.
Meeting places vary as does the agenda. As I mentioned earlier, the library's book club met in the library once a month. There were a few occasions when they decided to switch things up a bit and meet at a restaurant for a lunch meeting but I think that they ended up feeling that those meetings weren't nearly as productive. There are book clubs that change venues monthly (usually book club member's homes) and even feature pot luck style meals. I love this idea and I've even read about book clubs that serve food featured in the books and decorate the space and/or dress up themselves in a manner that represents the featured book up for discussion as well. This sounds like so much fun to me!!
I think that what I might not like so much about being in a book club is being told what to read. I sure didn't appreciate it in high school! I've always been of the opinion that telling people what they must read is a good way to curb their reading enthusiasm. Everyone prefers to choose for themselves what they'd like to read, don't they?
I personally think that it would be difficult to stay on topic at a book club. It often is when you get a group together, especially when they are passionate about the topic and are expected to offer up opinions. You always seem to have a few in any group who tend to monopolize the discussion and have louder voices. The timid people in the club would certainly have to make a concerted effort to offer up their opinions. It could be a great opportunity for the shy ones to become more comfortable speaking up and speaking out.
In my limited experience, just being on the outside looking in at one of the library's previous book clubs, I noticed that not all members read the books assigned for that month. I believe that everyone tried but some only got as far as maybe fifty or one hundred pages before giving up because they weren't enjoying the book. I would probably fall into that group. I really enjoy discussing books, authors, writing styles, series, characters, settings, plots and well I'm sure you get my drift, but I think I'm at a point in my life now where if I'm not getting any pleasure from reading a book I just won't finish it. There are many more books out there that I will surely enjoy so why waste my valuable time on the one that I'm just not into?
All of this being said, I really do some day want to be in a book club so I can share my love of books with other like-minded souls. Most days I feel that being fortunate enough to work in a public library I do get to do that on some level almost every day at work.
Presently, the Temiskaming Shores Public Library has a French book club called Les Liseuses and they meet the first Tuesday of the month here in the New Liskeard branch of the Temiskaming Shores Public Library from 10:15 to 11:15 a.m. For more information regarding this book club, please contact Carmen at 705-647-4215 once the TSPL reopens.