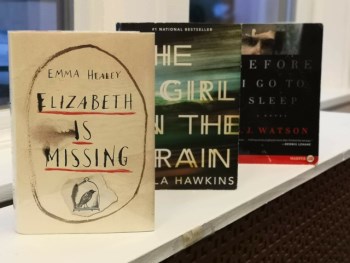 The use of an unreliable narrator in fiction books is a common trope, particularly within the mystery and thriller genre. An unreliable narrator adds to the intrigue. It leaves the reader wondering whether or not they can be trusted. Is the narrator crazy? Or is there actually someone out to get them…
One of the more popular books with an unreliable narrator is Girl on the Train by Paula Hawkins. The main character may have witnessed, or even been involved in a crime, but she was drunk and can't quite remember. Similar to The Girl on the Train is The Woman in the Window by A. J. Finn, where a woman confined to her home witnesses a crime in the house across the street, but no one believes her.
For fans of these books, you may want to explore other possibilities, namely Elizabeth is Missing by Emma Healey, We Were Liars by E. Lockhart, Baby Teeth by Zoje Stage, and Before I Go to Sleep by S. J. Watson.