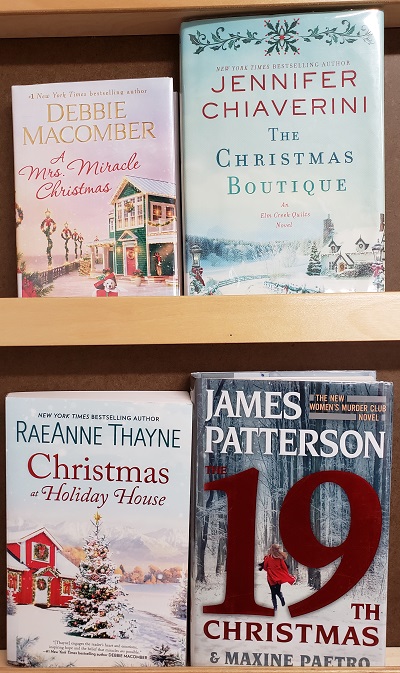 A lovely lady was in the library recently and made a comment about reading that really resonated with me. She said, "I live other people's lives temporarily, through all of the novels that I read." I have felt this exact way when reading. Sometimes we are completely swept up in a story and feel like we're right there in the midst of all the action.
I am a fan of Christmas fiction. Ever since I was a young girl, I've read and re-read the classic, Little Women by Louisa May Alcott around the holidays. Some would argue that it isn't really Christmas fiction but to me, Christmas has always been one of the themes woven through this wonderful story.
Presently, I am reading one of our new Christmas themed novels entitled Christmas at the Island Hotel by Jenny Colgan. I am thoroughly enjoying the story and it is helping me to get in the mood for the holiday season. This year has been a more difficult one for most of us due to Covid-19. Some of us are feeling more isolated and lonely than we ever have before. Immersing ourselves in some light Christmas reads might just help alleviate some of our humdrum feelings and get us into the Christmas spirit. I'm certain that at the very least, it wouldn't hurt.
There are a number of authors who tend to frequently write Christmas stories and they include: Richard Paul Evans, Joanne Fluke, Debbie Macomber , and Anne Perry just to name a few.
Here is a list of some of our newer Christmas themed books for adults:
FIC CHI The Christmas Boutique by Jennifer Chiaverini 2019
FIC COL Christmas at the Island Hotel by Jenny Colgan 2020
FIC MAC Jingle All the Way by Debbie Macomber 2020
FIC MAC A Mrs. Miracle Christmas by Debbie Macomber 2019
FIC MAL Happily This Christmas by Susan Mallery 2020
FIC PAT The 19th Christmas by James Patterson 2019
FIC THA Christmas at Holiday House by RaeAnne Thayne 2020
Books are a great Christmas gift, as are movies, music and games etc. If you have family that live in one of our non-contracting townships like Hudson, Harris or Hilliard or are considered a non-resident as they live in Latchford or Notre Dame du Nord or another nearby town, consider buying them a membership to the Temiskaming Shores Public Library for $100.00 for a full year. A library card is a gift that keeps on giving and will fill their lives with entertainment, knowledge and even new challenges if they want to try snowshoes for the first time or learn a second language for example! Just a thought, and we all know the age-old adage "it's the thought that counts."