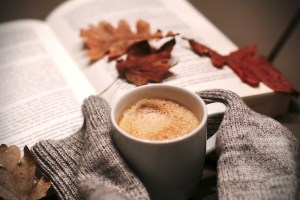 The end days of summer are here and our thoughts are turning to the cooler weather of fall and the comforts of a cozy blanket and warm beverages…or maybe pumpkin spice products if that's your thing. Fall is traditionally a season of change as we prepare for the coming winter but sometimes it's nice to hang onto the familiar, like a favourite book.
There are some people who don't like to re-read books, but I'm not one of those. Like a favourite movie, there's something wonderful about being able to delve into a story anytime you want. There's comfort in the familiar, even if you already know the ending. One great thing about re-read books is that you can notice things you may have missed in previous reads, or if you're re-reading a series, it can be interesting to see how the author wove it together now that you know how the story goes.
Sometimes re-reading can take you back to when you first read that book, like listening to a song can transport you back in time. Maybe it was a time of happiness or contentment in your life, and re-reading a book can help you tap into those feelings.
I admit that because there are many books I haven't read, I have a hard time finding time to re-read books. This year I decided to re-read The Dark Tower series by Stephen King, which I haven't read in over ten years. Being seven books, that's a big commitment, so instead of physically reading them, I'm listening to the audiobooks. While I remember most of the story, it's neat to experience it again especially knowing how it ends. (Anyone who had read this series and wants to discuss the ending, come find me.) Harry Potter is another series I love to re-read, not only because I love the world building, but also because of the way J. K. Rowling put the overall story arc together.
Are there books you find comfort in and enjoy re-reading from time to time?