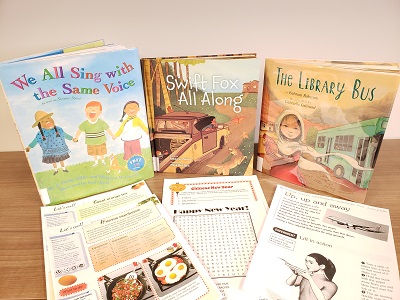 Family Literacy Day takes place every January 27th to raise awareness about the importance of reading and engaging in literacy activities as a family.
Family literacy focuses on family members helping to improve the reading and writing skills of the entire family.
By reading to children and engaging in fun literacy activities regularly, adults actively keep their own skills sharp and also help children improve their skills. Just fifteen minutes a day can improve a child's literacy skills dramatically. Visit the ABC Family Life Literacy Website to learn more about what you can do in 15 minutes and to gain some valuable facts.
Without adult support and a strong foundation at home, a child is less likely to be successful and engaged in school.
Read, play a game, tell a joke, follow a recipe…What are you going to do to encourage literacy on this year's Family Literacy Day?
Family Literacy Day is a national awareness initiative held annually. This year the theme is Travel the World Together.
The Temiskaming Shores Public Library has some fun activities and ideas for you to help celebrate Family Literacy Day in your home. To pick up a free Activity Kit just call us at 705-647-4215. We can schedule a time for you to come by and pick up your kit curbside due to the pandemic. If you plan on coming by anyway, why not reserve some books, magazines, games or movies to enjoy with your family too.
Family Literacy is always important, but perhaps even more so this year with so many interruptions and modifications going on with our schools because of COVID-19. Family literacy activities don't have to feel like homework. Pick up a kit and see for yourself!