I grew up in the library. From toddler to teen, and now into adulthood, the Temiskaming Shores Public Library has been my place of solace and inspiration. In my early days, I loved walking to the library with my family to check out books and movies. The smell of the building is one I can still recall (must, sunshine, and the mingled scent of books old and new). Some people might be turned off by that description, but I love it! I remember the clerks being so friendly and helpful (some I now work with) and the array of books, toys, puzzles, movies, and crafts were a dream come true for a young girl who preferred quiet time to herself.
By age 11 I read Harry Potter for the first time and that's when my love of books took off. I wanted to read everything I could find, and valued my proximity to the library so much more. I got my own library card later that year and felt like such a grown up.
By high school, I was brave enough to venture upstairs where all the adult books were held. I remember being so nervous that my walking or breathing would be too loud, and was always afraid to ask for help finding a book. It seems so silly to think about now, but I wanted to make a good impression in the "serious" part of the library. I quickly learned that the atmosphere upstairs was just as warm, helpful, and quirky as in the children's area.
By age 15 I was hired as a student page. Best day ever! The library staff shifted from strangers, to co-workers, to dear friends. I felt so at home and in my element. Working as a page introduced me to various community members and pulled me out of my shell.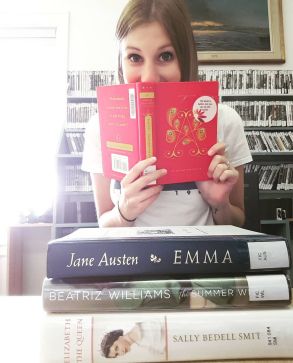 Age 17 rolls around and I have just graduated high school. While finished with high school, I wasn't ready to move away yet. I planned to take the next year off to work full time and save money for university. The moment of dread hit when I realized I wouldn't get enough hours working as a page at the library and would have to leave and find a full-time student job elsewhere. But just as providence would have it, one of our full-time clerks was taking a one year leave! I was offered her position and got to stay! I worked at the library every day, all day, full time, in the scary adult section. It was a dream.
When that marvelous year ended, new horizons took me to Waterloo to study social work. I actually got into my program based partly on a paper I wrote about the library. I knew I would return home one day, but I was convinced that my library days as a staff member were over.
Fast forward to June, 2019. I have moved home with a husband in tow and a social work degree. My first week back in town reveals that the library is looking for a 10-month contract position. What luck for me! Those 10 months introduced me to new friends and a new branch. I felt like this was the place for me.
As I began preparing to end my contract, one of my co-workers divulges that she is leaving the library to pursue a different career. Y'all, I could not believe it! What started as a short contract had turned into a full-time position.
Now here I am in our newly renovated library ready to serve our community! I will always be grateful to my parents for bringing me to the library when I was a child, and to the staff who shaped my formative years. I grew up in the library, and I can't wait to grow old with it now.