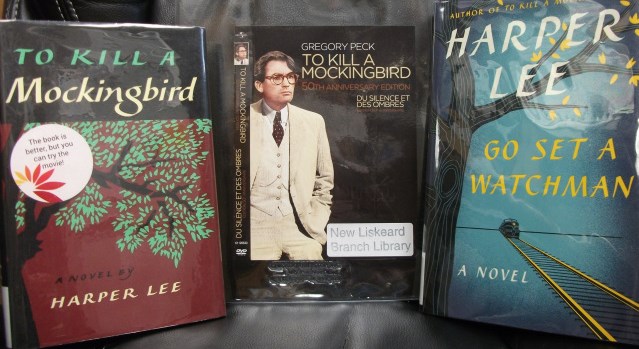 To Kill a Mockingbird by Harper Lee
If you have never read "To Kill a Mockingbird" by Harper Lee I would highly recommend it to anyone who loves a great story! It contains just about every emotion you can think of: anger, sadness, humor, compassion, righteous indignation, jealousy, racism, envy, and more…and, it makes you think!
To Kill a Mockingbird is about conscience and how it is instilled in two children. It is about a courageous Southern lawyer Atticus Finch "appointed to defend a Negro on a rape charge" in the midst of grave racial tension.
To Kill a Mockingbird by Harper Lee – the Movie
The Library also owns the movie by the same title. I have always immensely enjoyed it when a movie closely resembles the book and this one indeed does. Screen legend Gregory Peck stars in this classic movie based on the Prize-winning novel. It is indeed a rare find!
Go Set a Watchman by Harper Lee
This second book is set two decades after the author's Prize-winning masterpiece, To Kill a Mockingbird. Although I have to admit that the first time I picked up the author's second book it did not catch my interest. I was actually disappointed as I read the first couple of chapters. Just recently however, I reread "To Kill a Mockingbird", I re-watched the movie and tried once again to read "Go Set a Watchman"… and I am so glad I did!! I encourage you to do the same.
I wasn't sure where the author was going with this book and not until I read the entire book did I get it! Like the book jacket says this second book, "not only confirms the enduring brilliance of To Kill a Mockingbird, but also serves as its essential companion, adding depth, context, and new meaning to an American classic."