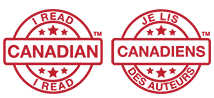 There is a new nationwide initiative of Canadian authors and their works and I'm happy to tell you a little about it.
This celebration is I READ CANADIAN and it will take place from the 14th to the 21st of February. I READ CANADIAN DAY will happen for the first time ever on February 19, 2020.
The purpose of this event is to raise awareness of Canadian books and celebrate the richness, diversity and breadth of Canadian literature.
We at the Temiskaming Shores Public Library will be celebrating I READ CANADIAN on Saturday, February 15, 2020 at the New Liskeard branch.
The English program/celebration will be from 10:30 – 11:30 a.m. and will feature special guests from the community coming in and reading a Canadian story or poem aloud followed by refreshments.
For our French speaking friends the French program/celebration will take place from 13:30hrs to 14:30hrs with the same agenda.
If you're looking for more Canadian authors to try or you're wanting to give Canadian authors a try here are some suggestions:
For adults: Margaret Atwood, Michael Ondaatje, Miriam Toews, Michael Crummey, Alice Munroe, Emma Donoghue, Yann Martel, Joseph Boyden, Carol Shields, Thomas King, Louise Penny, Austin Clarke, Richard Wagamese (my favourite), Elizabeth Hay, Alistair MacLeod, Robert Rotenberg…..just to name a few.
For children: Mary-Louise Gay, Deborah Ellis, Janet Lunn, Dennis Lee, Gordon Korman, Susin Nielsen, Sarah Ellis, Eric Walters, Robert Munsch, Peter Eyvindson, Marsha Forchuk Skrypuch, Elise Gravel, Kathy Stinson, Jean Little, Cary Fagan … just to name a few.
Local authors to read: Brit Griffin, Mark Howey, Elesha Teskey, Jennifer Jeffery, Bruce Taylor, Charlie Angus, André Mahieu, Charlie Johnson, Margaret Paraskevopoulos….just to name a few.