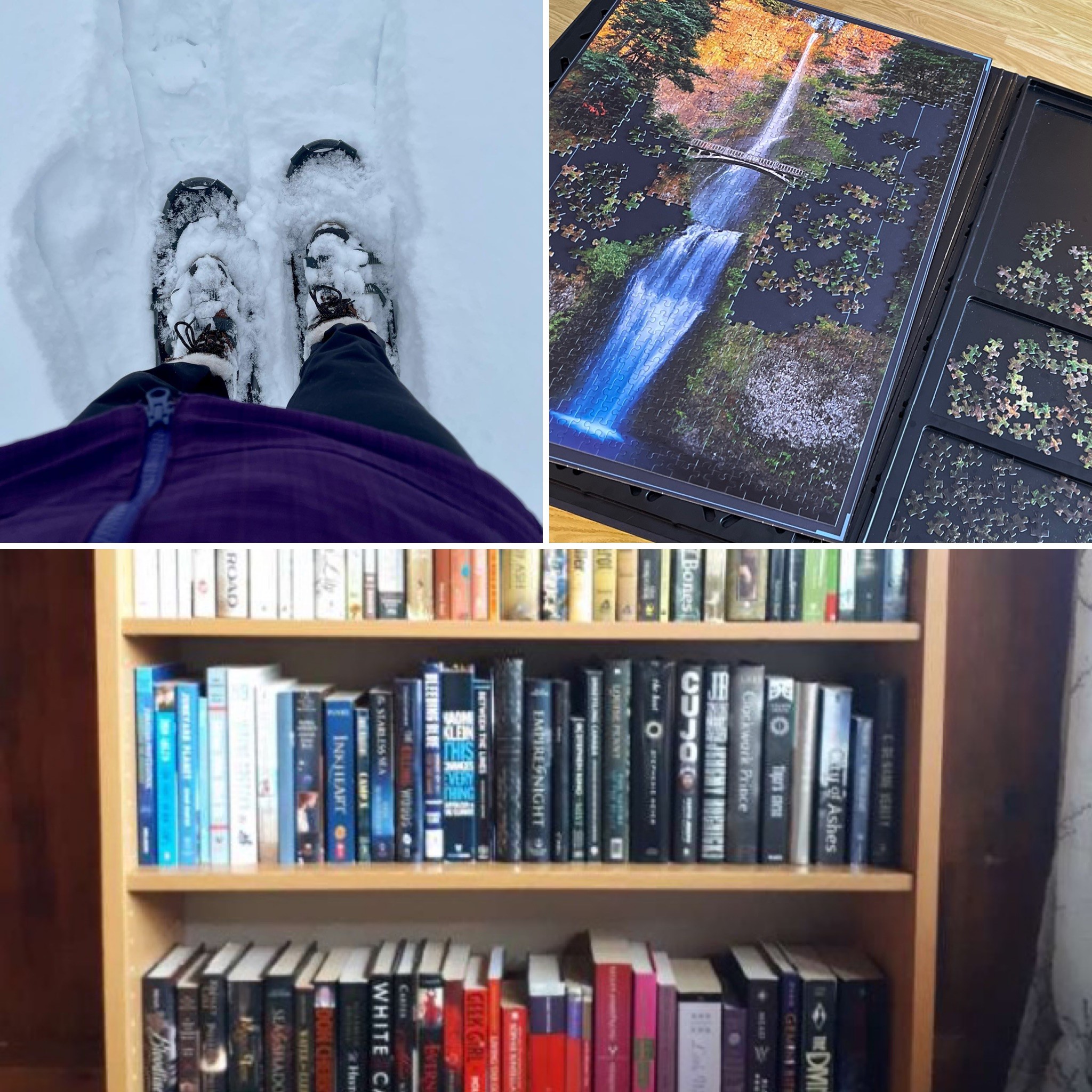 Mental well-being and physical health are more important than ever during the COVID-19 pandemic, when we are all dealing with uncertainty and stress as we try to keep up with the changes in our lives and manage our worry about loved ones. The Temiskaming Shores Public Library can help contribute to well-being and physical health, by offering books and movies in both official languages to help support education and for entertainment, and a wide variety of games, puzzles, magazines, audiobooks and children's materials to help keep community members of all ages occupied and amused. When the weather is good, the library's snowshoes, walking poles and backpacks are great for outdoor winter activities. The backpacks come equipped with information about outdoor activities to do in the area, trail maps, a bird guide and a compass. The snowshoes are very popular right now, so be sure to call well in advance to reserve a pair!
During the Stay-at-Home order, library materials must be ordered in advance and picked up at the front door of the library. There are several different ways of ordering materials: you can call the library at 705-647-4215, email us at info@temisklibrary.com or use our online catalogue at www.temisklibrary.com . If you need to renew your library card or want to sign up for a library membership, please call us and we will be happy to help. Once your order has been received by library staff and we have had time to collect your items we will call you and arrange a time for you to come by to pick them up while you are out for your essential shopping.
If you are not sure what you want we can still help! Call or email and we will find authors, subjects or be able to suggest genres of books based on your interests. We can also select bundles of children's books based on a theme, such as winter or forest animals. We have some online resources that are great for helping to select authors and books—Novelist and Novelist K-8 can be found on the eResources page of our website. These resources have "genre browsers," "appeal mixers," reviews, and other tools to help you find new authors and books. You will need to log in with the 14-digit number on the back of your library card to access the resource.
Because we are continuing to circulate library materials during the Stay-at-Home order, it is important to keep bringing library items back and returning them in the library's Drop Box, which is located on the parking lot side of the building. That way the items can be quarantined and made available to other members of our community. If an item is too large for the Drop Box, such as snowshoes or larger games, please call or email to arrange a drop off time.
The library's eResources, such as ebooks on Overdrive and emagazines on RB Digital are available 24/7 on the library's website. Overdrive ebooks and audiobooks can be borrowed for 14 days and are automatically returned so there are no late fees! We also have a number of resources for children, including PebbleGo Animals, Science and Dinosaurs with fun information, videos, and pictures, and TumbleBookLibrary Online, a collection of ebooks in both English and French. The collection includes favorites such as The Paper Bag Princess by Robert Munsch, Diary of a Worm, How I Became a Pirate, Miss Malarkey Doesn't Live in Room 10, One Duck Stuck, as well as fairy tales such as Jack and the Beanstalk and Old Mother Hubbard.
Staying at home is necessary during the pandemic, but so is taking care of yourself! Reading, playing games, doing puzzles and getting out for some fresh air on snowshoes are all great activities to reduce stress and enjoy time on your own and with your immediate family.