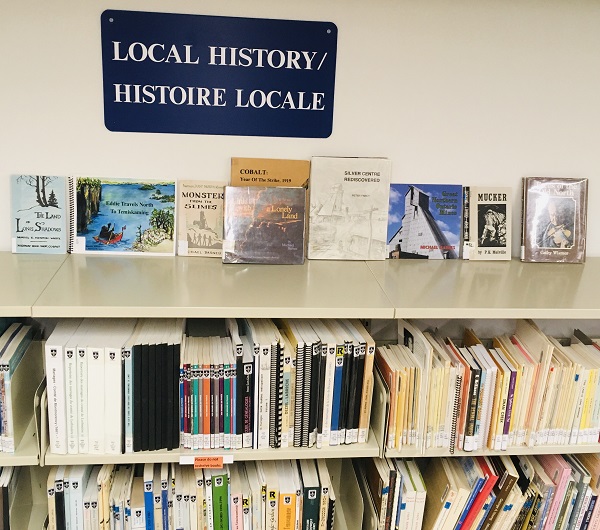 I worked at the library for over a year without really paying attention to the local history section. When the two old branches closed and were merged, I had the chance to get up close and personal with this part of our libraries collection. Other staff had packed up the New Liskeard and Haileybury branches local history collections, and I found myself with the job of unpacking the two sets of books, merging, and then shelving them in our new location. I thought this would be as dull as old silver, but it was interesting! I had no idea we had so many books on this area! Published books make up a large portion of this collection, but we also have many scrapbooks, cemetery listings, old school year books, and more. When the New Liskeard Genealogy Club ended, they donated all their items to the library. We also inherited a lot of books by local authors when the Highway Bookstore closed their doors years ago.
Our collection is in both English and French. One expects to find accounts of early life in this area, books on the history of Cobalt, lots of information on the silver mines, and numerous accounts of births and deaths, but there are gems hidden in this collection! When I have time, I like to look through the old scrap books and many have pictures of homesteading families in front of old wooden buildings, pictures of a sparse downtown Liskeard or Haileybury, weddings and pic-nicks, families in huge gardens, and cabins in the woods.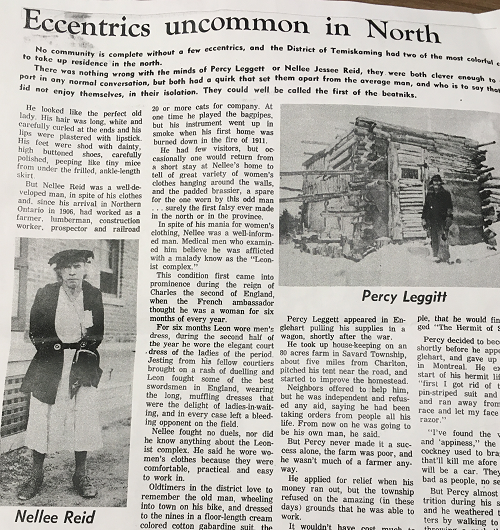 I found a gem when I was going through a donated scrapbook that belonged to the Rockley Branch of the Federated Women's Institutes of Ontario. In the book was a copy of an old newspaper column. There is no date or name, but my guess is that it is from the Speaker. The title is Eccentrics Uncommon in North. The article talks about a man called Nellee Reid, who showed up in northern Ontario in 1906 and dressed as a woman as he toiled in construction, farming, prospecting and railway work. Nellee lived alone with twenty or so cats in a small cabin near Tomstown. Nellee said he wore women's clothing because it was so comfortable! It amazes me that someone could come out as it were so long ago in a conservative farming town, and still get enough work to make a living and feed his clowder of cats. There is mention of another eccentric named Percy Leggitt who showed up in Engelhart after the war. This hermit tried to farm, but would not accept any help and was a bad, bad farmer. Close to starving he ended up throwing a rock through the liquor store in Englehart so could spend the winter in jail! He was really a hermit and never washed, shaved, or combed his hair! He eventually moved away to Hamilton where he again made the newspaper because he was going to the WMCA pool and caused a stir with his dirty clothes and unkempt appearance. There is no mention of the end of either Percy of Nellee. If you'd like to read the article, stop by TSPL!
Here are some of the interesting titles you can find in our local history section:
Mucker by P.H. Melville
Great Northern Ontario Mines by Michael Barnes
Faces of the old North by Cathy Wismer
Another Just North Mystery the Chief Commanda Hi-Jack by Michael Barnes
They Stepped Into Immortality The Stores Behind the World War 1 Veterans Listed on The New Liskeard Cenotaph by Andre R. Maheu
Eddie Travels North To Temiskaming by Jennifer Jeffery and Patricia Bernstein
The Land of Long Shadows by Muriel E. Newton-White
Link With a Lonely Land by Michael Barnes
Cobalt: Year Of The Strike, 1919 by B. Hogan
Monster From The Slimes by Michael Barnes
Two Thousand Miles of Gold by Mac-Dougall
The Way North by S.A. Pain
Silver Centre Rediscovered by Peter Fancy
The scrapbooks are not for check-out, but you are welcome to read through them here. Next time you are in to the library, I hope you take a few moments to check out what the local history section has to offer!