A question that is occasionally asked of library staff members is, "How is the library funded?" In Ontario, libraries are funded primarily through municipal tax dollars. In Temiskaming Shores, and in most libraries across Ontario, this accounts for about 85% of library revenues. Although they are primarily funded by their municipalities and their boards are appointed by municipal councils, libraries are governed by the Public Libraries Act of Ontario and are somewhat separate from other municipal departments. The act restricts the ability of public libraries to levy fees for services for residents within the library's service area; libraries cannot charge their residents for library cards and cannot implement fees for circulation of prescribed materials. Because of these restrictions, a library has limited ability to raise operating funds. Most of the self- generated funds for the Temiskaming Shores Public Library comes from fines, non-resident fees, fees for lost and damaged materials, photocopying, faxing and printing fees, proctoring exam fees, the pay-as-you-please book sales, and donations including interest from the May Ball trust fund that was set up many years ago.
Another interesting fact is that an average household in the City of Temiskaming Shores contributes about $100 of annual municipal taxes to library services. A breakdown of revenues for the Temiskaming Shores Public Library in 2019 is as follows: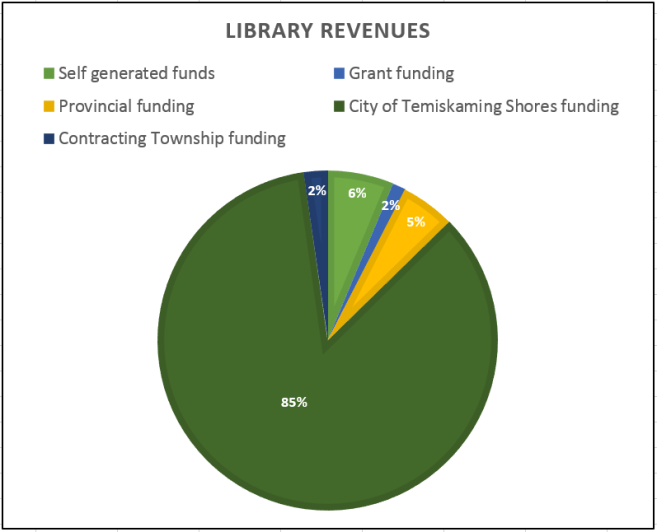 What do taxpaying residents of a municipality get in return for their contribution towards keeping their public library operating in their community?
A number of economic impact and value studies have been completed in the past decade in libraries across Canada. These studies have found that libraries have intangible benefits related to their natural role as community hubs. This value to a community can be expressed as "Social Return on Investment (SROI)" or the "social impact of a library's operations in dollar terms relative to the investment required to create that impact." There are seven main areas in which libraries are acknowledged to contribute to a community's social network and fabric. Here are some examples of how the Temiskaming Shores Library contributes to each of those areas: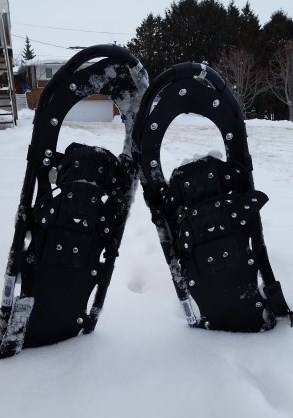 Cultural Integrity and Regional Identity: The Library has collections of materials to preserve and reflect the unique cultural identity of our region: Francophone materials, genealogy and local history resources, and collections of items such as snowshoes and backpacks to reflect the connections to our natural surroundings.
Social Inclusion: The Library is a space open to the entire community. The library often levels the playing field for people. Many people in the area either have no internet or unreliable access to internet. For those people, the internet connection offered by the library is crucial to access online information and to connect with friends and family who do not live in the region.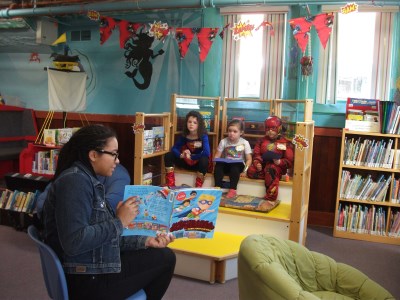 Cognitive and Literacy Development: The Library's collection of literary resources is available to community members of all ages, and even delivered to the seniors' homes in the area. Technology workshops encourage computer literacy among community members of all ages. As well, the public library proctors exams for educational institutions, allowing people to remain in the community while completing an education.
Health and Wellness: There is a strong connection between the services of public libraries and the health of their patrons, particularly for those who experience mental and physical health challenges. Many patrons know that they are more than just another face to the staff at the Temiskaming Shores Public Library. The safe and welcoming environment of the library is highly regarded because people do not have to travel outside the community for programming or services.
Engaged Citizens and Safer Communities: Through programming, workshops, and accidental interaction, patrons have an opportunity to create and develop relationships with a broader cross-section of the population at the library than they might ordinarily meet in their daily lives. After school programs offer a safe place for students, such as the Digital Creator space. The Library is one of the main places where newcomers to the community can access help and support.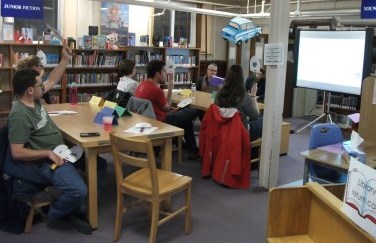 Entertainment and Enjoyment: Libraries provide enjoyment and entertainment to their patrons in two important ways: through their ever-changing collections of books, CDs, DVDs, eBooks, audio books, and a wide range of other materials, and as a place to hang out. For populations living in Northern, rural communities, both of these functions may be of even greater importance than in larger urban centres.
Economic Development: The Library boosts economic development through providing "office" space and internet for home-based businesses and local entrepreneurs, supporting the local economy by purchasing goods and services in the community and helping student pages and volunteers develop workplace skills which help them become better employees outside the library.
The infographic below shows the social return on investment for the various services and programs in each of the seven sectors, and for each hour open ($353), for each person in the Temiskaming Shores Library's catchment area ($391), and for each household ($839). In 2018 each taxpayer dollar invested in library services had an overall SROI benefit of $11.08, with an economic impact of $4,576,523.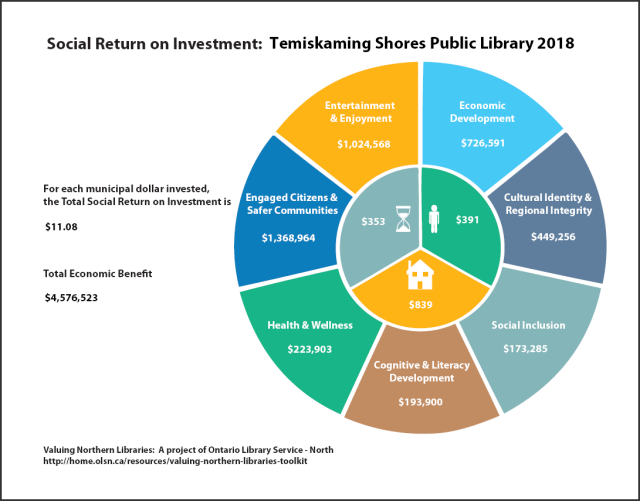 The Temiskaming Shores library has a great bang for buck in value to our community! If you haven't been in the library lately, maybe now is the time to come explore what your library has to offer you.