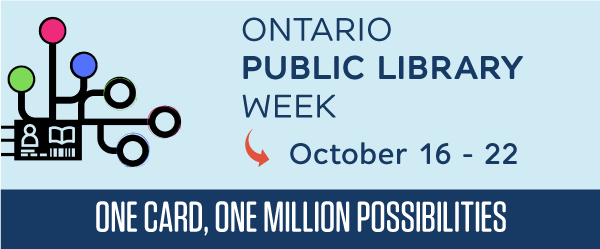 Ontario Public Library Week is the week of 16 October, and we hope you stop by the Temiskaming Shores Public Library. We will be introducing a Youth Reading Challenge and an Adult Reading Challenge. These challenges will be running from October 17 to December 17 and involve the participant reading at least seven books that each must match at least one of the different criteria in the challenge. There will be a prize awarded to the winners of each of these challenges in December once the challenges are over. Good luck to all who participate!
We will also have lovely bookmarks to hand out that you, the readers will get to colour yourselves and we have 'Five Finger Rule' bookmarks too for our emergent readers.
On display during Ontario Public Library Week, we will have a tower of library items. If you choose to join in the fun, you will be asked to guess the price the library would have to pay in order to replace that tower of library items. There will be a prize awarded to one lucky winner.
The library also has an outdoor scavenger hunt for you to take away with you and enjoy with family and friends.
We have a wonderful collection of items that our patrons can borrow with their library cards whenever they come by to visit. Books of all kinds for all ages in a variety of formats including audio books, eBooks, large print books and we carry books in both French and English. More recently added to our collection are snowshoes, Ontario Provincial Park Day Passes, Walking Poles, Back Packs, Jigsaw Puzzles, DVDs, BluRays, Music CDs, Board Games, outdoor games and last but certainly not least Mifi Mobile Hotspots!
On Wednesday, October 19 from 10:00 to 10:30 a.m. we will be having our Preschool Storytime program in our children's library (this is a drop-in event) and on Saturday, October 22 we will be presenting Paddington 2 in our programming room as part of our Morning at the Movies program. We ask that you register in advance for this program. We always look forward to seeing all our patrons old and new but especially during times that celebrate public libraries and their patrons and staff!