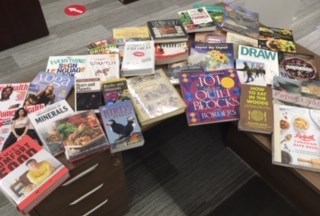 With the holiday season almost upon us, it might be a good idea to take a few moments to yourself and think about what you can do to keep stress levels under control this winter.
The COVID-19 pandemic has changed our routines and our lives in so many different ways. For some of us it has meant time working from home, or having children do virtual classes. In many ways, the world has slowed down. People have taken up new interests or gone back to things they used to enjoy. This really hit me last spring when it was impossible to get garden seeds, and bedding plants sold out quickly. Yeast was hard to get as people with more time at home took up baking again. We are in for a long and uncertain winter, and to make it pass more quickly and help keep yourself sane, I have roamed the nonfiction isles to come with some hobbies or activities to keep you active and engaged this coming year.
Learn a new language! We have The Everything Sign Language Book, Teach Yourself Complete Spanish, Complete French, and many more languages. Items are available in branch and through our website.
Work Out! We carry the magazines Men's Health, Women's Health and Yoga Journal to name a few.
Learn something new about our world! We have the Birds of Canada Field Guide, Peterson Field Guides to the Stars and Planets, and Rocks and Minerals. We also carry the Complete Encyclopedia of Minerals.
Make something! We have Quick and Easy Home Sewing Projects, 80 Best-Ever Origami Projects, Working In Wood- The illustrated Manual of Tools, Methods, Materials, and Classic Constructions, 101 full-size Quilt Block and Borders, The Forgotten Arts and Crafts-Skills from Bygone Days, and Paper Crafts which has over 100 ideas for items made from paper, to name a few.
Get Creative! The K-I-S-S Guide to Playing Guitar, Draw- Teach Yourself How in 30 Lessons, The New Drawing on the Right Side of the Brain, Watercolor Painting- Layer by Layer, and dare to dream big with More Straw Bale Building.
Get outside! Get busy with Backyard Ice Rink- A Step-by-Step Guide for Building Your Own Hockey Rink at Home. We have the Snowshoe Experience-Gear Up and Discover The Wonders of Winter on Snowshoes and we also have snowshoes in three sizes available for free checkout with a library card.
Get Growing! Dream about spring and plan your garden with our books. We have The Urban Farmer, How to Garden-A practical encyclopedia of gardening techniques with step-by-step photographs, The Canadian Illustrated Guide to Green Gardening, and many, many more books on gardening.
Get Cooking! We have a lot of cooking books for you to explore! Here are a few; The Homemade Kitchen, The Complete Vegetarian Cookbook, The Redpath Canadian Bake Book, Jamie's Comfort Food, Perfect Indian, and How To Eat In The Woods-A complete guide to foraging, trapping, fishing, and finding sustenance in the wild.
We also have a large local history section with many out of print books on our area and the early inhabitants. We also have audio books so you can listen while you knit, or exercise, or whatever! I hope you can find something here at the library to help lower your COVID stress and make your winter a more pleasant one.