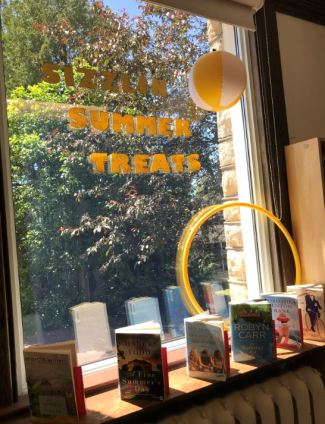 Summer is finally here. Sunny days and warm nights are perfect for reading with a cool drink in hand at the beach, cottage or home with the AC blasting!
At the Temiskaming Shores Public Library, we have all your summer reads waiting! Our New Liskeard Branch has a new "Sizzlin' Summer Treats" display that may have your next book. All of the titles on display have the word "SUMMER" in the title. Here are a few examples:
The Summer House by Marcia Willett – In the small inlaid wooden box, Matt's mother had kept all his childhood memories. Among them are many photos of Matt as a child, growing up. But something about the photos has always puzzled Matt – was that really him? Why did he not remember those clothes? The toys? And where, in the photos, was his sister…?
Summer with My Sisters by Holly Chamberlin – When Poppy Higgins left Yorktide, Maine, for Boston, she pictured future visits home as brief diversions from her real life in the big city. Fate had different ideas, and at twenty-five, Poppy has been called back to care for her two younger sisters following their father's death. Filled with the candid warmth of real sisterhood, "Summer with My Sisters" explores the many forms a family can take, and the unspoken ties that endure, season after season…
All Summer Long by Dorothea Benton Frank – All Summer Long follows one charming New York couple – prominent interior designer Olivia Ritchie and her husband, Nicholas Seymour, an English professor and true Southern gentleman. They are seemingly polar opposites yet magnetically drawn together and in love for more than 14 years.
Stop by and see what is new at both branches of your Temiskaming Shores Public Library.
Hope to see you soon!