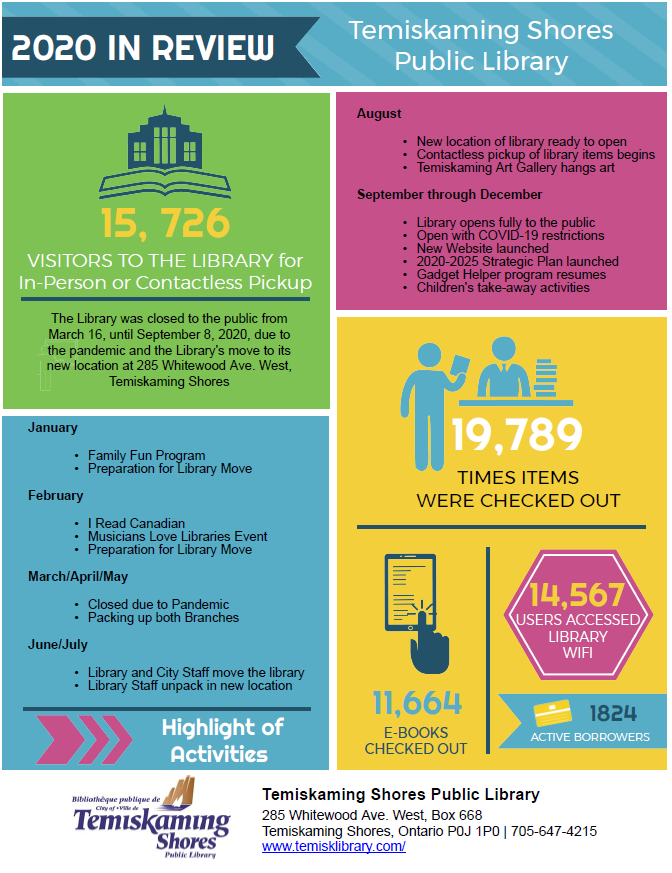 2020 was an incredibly busy year for the library, despite the closures and shut downs of services due to the COVID-19 pandemic. The early months of the year were spent preparing for the library move while continuing with regular library programs and events. In March, April and May, when the library was unexpectedly shut down due to the pandemic, staff members took advantage of the shutdown to pack up the library branches and sell off furnishings and shelving that would not be used in the new location.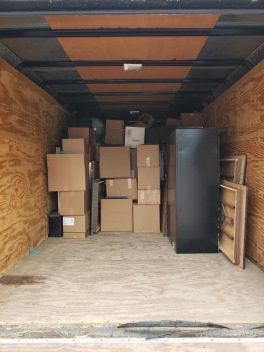 June and July were spent moving and unpacking hundreds of boxes of books in the new location. In all, around 1000 boxes were moved from the two previous locations, with an additional 100 boxes moved up to the Northern College Library in Haileybury to await the beginning of the partnership to provide public library services to that area of Temiskaming Shores. In August the Temiskaming Art Gallery helped put the finishing touches on the new building by hanging the library's collection of art pieces on the walls. The library opened for contactless pickup of items in early August.
September through December were spent settling into the new location and opening fully to the public, with COVID-19 restrictions, of course. The new city and library website was launched, and the Library Board presented their 2020-2025 Strategic Plan to City Council. Although regular programming was not possible, the Gadget Helper program was restarted, and some creative children's programming took place, such as a story on the windows of the library and take away craft bags.
In total, the library was closed to the public for six months. Here are some of the key activities of 2020:
Circulation of books and materials: 19,789
Circulation of eBooks and magazines: 11,664
Visits to the library in person or to participate in contactless pickup: 15,726
Uses of the library's wifi: 14,567
Here is a financial summary of 2020 revenues and expenditures:
Revenue
City of Temiskaming Shores: $366,960
Province of Ontario: $23,259
Municipal Grants, Contracting Townships: $12,475
Library Revenue: $11,158
Trust Fund: $10,000
Special Grants: $5,681
Total: $ 429,533
Expenditures
Staff, Benefits, Training: $336,124
Books, DVDs, CDs, Magazines & materials for processing: $32,367
Buildings/Maintenance: $43,569
Computers and IT Services: $9,838
Office supplies and equipment: $6,995
Programming: $140
May and Frances Ball Memorial Scholarship: $500
Total: $ 429,533
The Library Board and Staff are pleased to be fully open to the public in our new location and proudly invite members of the public in to have a look around!