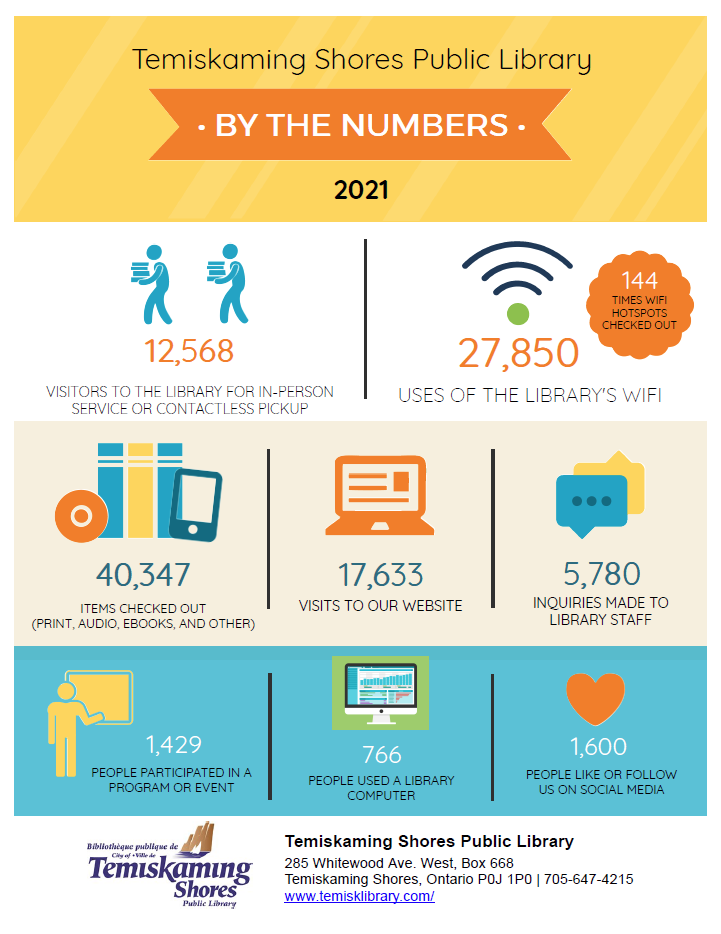 2021 saw the Library continuing to provide service during pandemic lockdowns. The Library was closed to the public and only able to provide contactless pickup service and limited computer services for five months in the first half of 2021. On June 30, 2021, the library opened fully to the public and has been open continuously since then.
Although there were no scheduled in-person programs in 2021, the Library did host some virtual programming events, and had many take-away craft and activity bag events throughout the year. Some of those events included Family Literacy Day take-aways, Easter craft kits, grain growing kits from Grain Farmers of Ontario, Mother's Day card craft take-aways, Orange Shirt Day activity kits and buttons, and the Christmas Cards for Soldiers Abroad program in which families picked up Christmas cards to decorate and send to Canadian soldiers who are serving abroad over the Christmas holidays.
Over the summer the library hosted several online STEM workshops with Scientists in Situ, which were extremely popular, and held a photo scavenger hunt that was a lot of fun for participating teams! Later in the summer, the nature scavenger hunt encouraged community members to collect items they found while hiking our amazing local trails. There were also several StoryWalks® on the windows of the Library so that youngsters could walk around the outside of the building and enjoy a fun story.
As restrictions eased over the summer and into the fall, the Library began the Gadget Helper program again, to aid people in accessing library eBooks and resources and troubleshooting their devices. Our summer intern and Technology Coordinator began introducing small groups to the Library's Creator Space equipment which includes a green screen, 3D printers, virtual reality equipment, a button maker and a working Raspberry Pi computer.
Two brand new programs in 2021 were the portable wifi hotspot rental program and the Ontario Parks Day Pass lending program. Both of those programs kicked off in the Spring of 2021 and are currently still available. In addition to those programs the Library added large outdoor games to the game collection, including lawn darts, ring toss, bean bag toss, team walkers and monster trax for outdoors fun all summer long. Another addition was the donation of ten pairs of children's snowshoes by the Healthy Kids program to the Library's collection of snowshoes to increase access for our younger community members to that seasonal activity.
The Library Board and Staff are pleased to be open to the public in our new, conveniently located, and fully accessible location and proudly invite members of the public in to have a look around and see what we have to offer!
Photo Gallery: 2021 Year in Review will appear here on the public site.