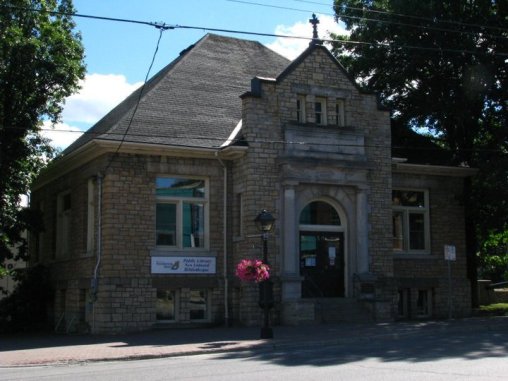 I am a fairly new Library Clerk at TSPL, and getting this job has really opened my eyes to all the library has to offer. Of course we have books, but there is so much more! Let's start with the building that houses our collection. Our library in New Liskeard is one of 125 libraries across Canada that was funded by a very wealthy business man and philanthropist named Andrew Carnegie. He funded 111 libraries in Ontario, and worldwide he financed, through his foundation, 2509 libraries. He was a very strong believer in the power of free books and information to help level the playing field of life. He is quoted as saying:
"There is not such a cradle of democracy upon the earth as the Free Public Library, this republic of letters, where neither rank, office, nor wealth receives the slightest consideration."
Our library in New Liskeard was awarded $10,900.00 from the foundation is 1910, and was built by the architects Angus and Angus. I still am in awe when I drive or walk by on my day off and think, "I have the keys to THAT building!"
I was really surprised at what else can be checked out. We have board games for all ages, as well as backpacks full of items for hiking and bird watching. We have walking poles and the Haileybury branch has snowshoes. We also have a large selection of DVD and Blu-ray movies as well as audio books. We have magazines at both branches and also online. Our online applications give you access to audio and E-books as well. We also have large print books, and we carry the weekly editions of two local papers. The newspapers are for reading here in the branch, but everything else is available to borrow with your library card. We also have a microfiche machine in Haileybury available for research. We have computers in each branch that are open to the public, and you do not need a card to use them. We have free Wi-Fi and do inexpensive faxing and photocopying for the general public. We also sell dog and cat tags as well as bus tickets and passes.
In New Liskeard, we have a special teen room set up with an Xbox, a Nintendo unit, a 3D printer, and three gaming machines. Teens can play games, but also the Digital Creator staff will work with them to teach them specific digital skills.
Libraries often serve as meeting places, places to tutor, write exams, and study. We are much more relaxed than years ago, and now patrons can bring their snack and a coffee into the building—as long as they aren't using the computers. I like to think of libraries as a safe place for all kinds of people to linger within! A place to connect, to dream, and to find stories that remind us how marvelous it is to be human!