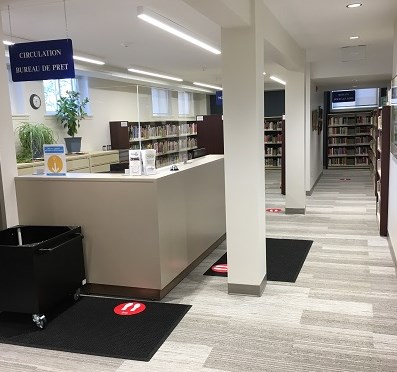 Programs and activities:
This is just a general reminder that the library does collect contact information for everyone remaining in the library for more than fifteen minutes. The information is kept confidential, is only given to the Timiskaming Health Unit on request, and is kept for 30 days before being shredded.
Until the end of November we have some take away bags with activities in French to celebrate snow! We still have some available to pick up when you have a chance.
Another program that we are running is to Send a Christmas Card or letter to a Canadian Armed Forces member serving outside of the country this Christmas. Participants can pick up greeting cards or stationary at the library to send a soldier a Christmas greeting. This lets them know we appreciate their service and sacrifice and that we all wish them a safe and Merry Christmas. The cards must be brought back to the library by December 6 so we can get them sent out in time.
Starting in December we will have a take away Christmas craft for kids to pick up and do at home. These kits will provide all of the materials to create a Watercolour Salt Painting with a winter/Christmas theme. Swing by the library and pick some up for a really neat Christmas craft!
Meeting Room information:
The library has a large meeting/programming room that we will rent out to community organizations starting next year. We have purchased videoconferencing equipment that the library uses for its board meetings and is very convenient for hybrid meetings where some of the people are attending the meeting in-person and some are on zoom or another videoconferencing program.
There are a few policies around the rentals: all attendees must show proof of vaccination for COVID-19, they much be actively screened for symptoms and give contact information, and they must wear masks while in the library and meeting room. Currently we have capacity for a maximum of 15 people for a meeting, and we are not allowing food or drinks in the space at this time. Rates are $30 for up to four hours and $60 for more than four hours, and the space must be booked in advance. For more information please contact the library!
Contracting Townships:
Currently the library has three townships who contract for library services with Temiskaming Shores Public Library so that their residents can receive a free library membership. The Townships of Casey, Harley and Kerns currently contract for library services, and anyone living in those townships can come to the library and sign up for a free card. A library card gives access to many library services, including access to eBooks and eMagazines. We recently signed up for OverDrive Magazines, and have access to three thousand titles of magazines. They can be downloaded to a computer, laptop, tablet or phone with the Libby app, and there are no waiting periods. They can be checked out for two weeks and renewed with no waiting periods. With winter arriving is it a great way to keep entertained and informed! We also, of course, have our print books and magazines, as well as board games, puzzles and even snowshoes! We have added ten pairs of children's snowshoes to our collection due to a great donation from the Healthy Kids program. Now the whole family can enjoy getting out onto our beautiful local trails this winter! So if you live in one of the contracting townships, come on out to sign up for a library card and be able to stay entertained and active all winter long!
As a side note, the library has been informed that Hudson Township, although they do not contract for library services with Temiskaming Shores Library, have agreed to refund their residents $50 of the cost of a non-resident library card at Temiskaming Shores Library. So if you live in Hudson Township, you can purchase a membership with the library for $120 and bring the receipt to Hudson Township for a rebate of $50.
Wifi Hotspot information:
We have some good news: The library is continuing our Mobile Wifi Hotspot lending program for at least another year!
This free program allows library patrons to take out a mobile wifi hotspot device to allow people access to the internet from their homes. It is especially helpful for people who do not have internet or who have unreliable internet at home. The mobile hotspots can be checked out for three weeks by library cardholders 18 years and older. They will work anywhere with a cellular network, and the data is supplied by the library. Families can connect up to 15 devices to the MiFi hotspots.
The Library has 10 devices to loan. There are no fees for library members to check out a device, however a user agreement needs to be signed. Cardholders can place the devices on hold to reserve them through the library's catalog or they can call the library for more information.
I am happy to answer any questions about library services and can be reached at 705-647-4215, or at rhunt@temiskamingshores.ca