On behalf of the board and staff of the Temiskaming Shores Public Library, I would like to welcome everyone to our new space at 285 Whitewood Ave. West in Temiskaming Shores. It has been a long nearly six months since we closed due to COVID-19 in early March. During our closure, staff took courses on small library operations and programming, and maintained our online resources, such as our e-book and e-magazine subscriptions. We also fielded questions about the library service, renewed memberships and issued new memberships to many patrons who were looking to access our online services.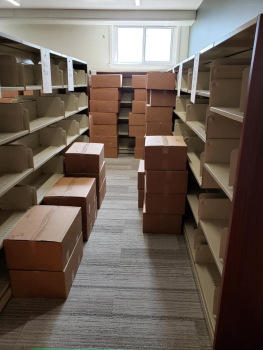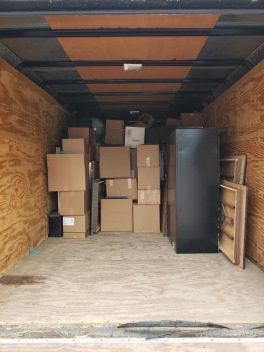 In addition to these very important tasks in maintaining our library service, the library staff packed two library branches and moved them to a single newly renovated location. Nearly 1000 boxes and numerous pieces of library furniture were moved by our amazing city and library staff in late June. The month of July was spent setting up the library, and we started a "curbside" book pickup service in early August. Finally, in early September we are ready to open in the new covid-19 environment in which we live.
Watching the transformation of the new building from medical offices to a fully functioning library has been very exciting. The building is fully accessible, with a ramp to the automatic front door, a working elevator and a barrier free washroom on each floor. We have a study room to support distance education learners and a large programming room and Digital Creator space which we hope will be open later this fall. The children's area has mobile shelving which can be pushed out of the way to accommodate children's programming. There are ample seating areas throughout with outlets to plug in devices such as phones and laptops that people may be using to access our wifi. The Art Gallery did a fantastic job hanging the library's collection of artwork to create an inviting atmosphere.
We need to lock our drop box for returning books during the day so that the elevator is fully accessible for wheelchairs. This means that people will have to bring their items to return into the library to return them during the day. We have another box at the bottom of the stairs to the lower level in front of the circulation desk where items can be returned. Please remember to wear a mask when coming into the building to return items! Library materials can be returned in the drop box outside when the library is closed as in the past.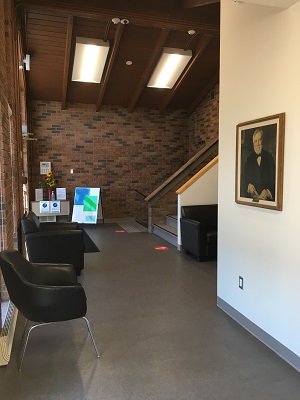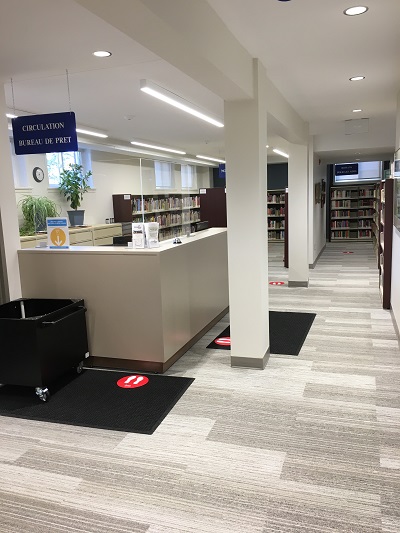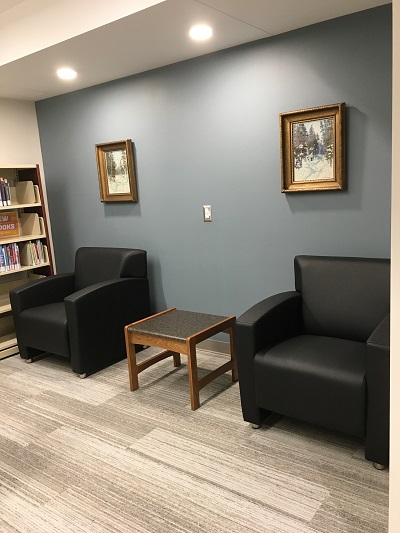 As well, we are opening with different hours in our new location. We now open at 10:00 am, an hour earlier in the morning than previously, and we are open from Monday through Saturday, except for statutory holidays. On Mondays, Fridays and Saturdays we are open from 10:00 until 4:00 pm, and on Tuesdays, Wednesdays and Thursdays we are open from 10:00 until 8:00 pm. These new opening hours reflect some of the feedback that we received during our library service consultations a few years ago. We will try to keep these extended hours during covid-19 so that everyone will have a chance to use the library, as we are also restricting the number of people allowed in the building at a time to 20 visitors. We are hoping that this way if someone needs to wait they will have an opportunity at another time of the day to access our services.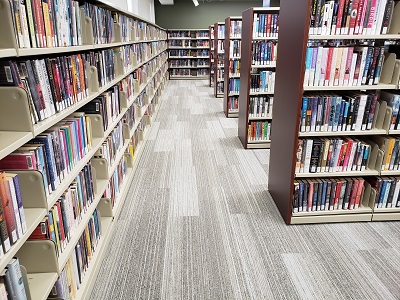 There are a few new things operationally as well. When visiting the library we ask that people wear a facemask, sanitize their hands on entering and exiting, and that they follow the directional arrows to ensure physical distancing. As well, we are requiring that library members show their membership card when checking out items, so people should bring their card each time they visit. If they have a non-resident family card they can bring a photocopy of the card or a picture of the card on their phone. If someone has lost their card they can purchase a replacement for $2.00. This will help reduce staff error and ensure that items are checked out to the correct person.
Our public access computers are open, and we will be requiring that people book appointments to use them as part of covid-19 measures. There will be a time limit of 30 minutes a session because we can only open 3 of our workstations and still maintain physical distancing. Wearing a facemask while using the computers is mandatory, and workstations will be sanitized after each use.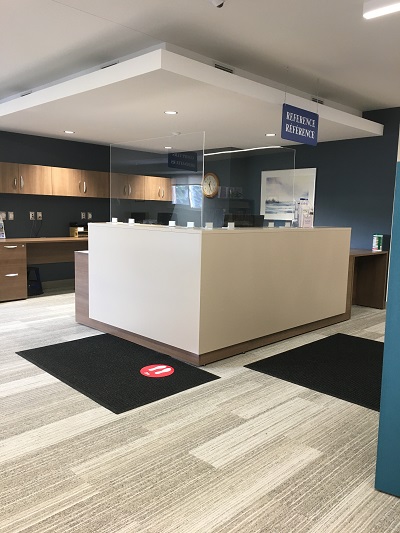 Another covid-19 measure is that we will be collecting contact information for computer users, and other users of the library if they sit at our tables to read or use their devices to connect to our wifi. This will help the Timiskaming Health Unit with contract tracing during the pandemic.
In addition to providing our usual in library services, we are continuing to offer our curbside pickup service for those members of our community who would prefer not to wear a mask or enter the building. Contact the library to find out how to place holds on books and arrange a time to pick them up!
Hope to see you soon!
Rebecca Hunt, Library CEO