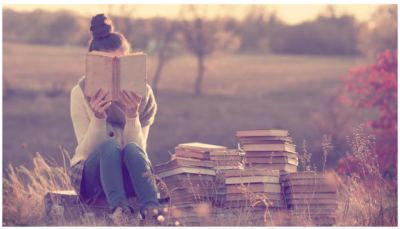 We've been busy at the Temiskaming Shores Public Library with Summer Reading Contests for both adults and children who read in English and Défi de lecture for adults and children who read in French.
I'm sad to say that I think I'm only on my second book of the summer! I read for pleasure every day but I'm not going through my book choices very quickly at all! I think the reason is that I'm too tired and I usually do most of my reading when I go to bed at night.
What is your reading routine like? Do you read in the morning with your coffee to get a quiet start to your day? Are you a mealtime reader who prefers a book to conversation? Do you carry your book with you wherever you go, be it the dentist's office or the garage for your car's oil change, and read while you wait?
Does the time of year influence your reading routine at all? Do the lazy days of summer make you want to swing in a hammock and read away the afternoon?
Does curling up on the couch with a nice cup of tea and a good book on a crisp autumn day tickle your fancy?
Would you enjoy cuddling under a cozy throw on a snowy day, with a great novel and a hot chocolate?
Perhaps you would prefer the sound of rain on the roof, lamplight glowing and a story and tea that beckon you to rest awhile.
Whatever your reading routine is, or if you really don't follow any particular reading routine at all, my advice is to just keep reading, whenever and wherever you can.
There have been many scientific studies done on the incredible benefits of reading. Here are some that come to my mind immediately:
Reduces stress
Promotes mental health
Expands vocabulary
It is contagious, so you're setting a great example
Improves general knowledge
Makes you more empathetic
Free entertainment if you use your library!!
That's my opinion any way!
George R.R. Martin wrote in his novel A Dance With Dragons "A reader lives a thousand lives before he dies…The man who never reads lives only one." I feel there is truth in his words.