Welcome!
The City of Temiskaming Shores is preparing an Active Transportation Plan to:
Enhance connectivity between trail networks, sidewalks and on-road cycling routes to create an integrated, connected system of active transportation infrastructure.
Build upon the recommendations and guidance of existing plans, particularly the City's Recreation Master Plan, by identifying new on-road and off-road facilities that enhance the access and connectivity of the current active transportation network.
Broaden the City's approach to active transportation promotion by including new programming initiatives and more detailed guidance on implementation.
Provide opportunities for residents and stakeholders to help shape the City's approach to promoting active transportation and familiarize themselves with what's been previously proposed.
Strengthen Timiskaming Shores reputation as an ideal tourist destination, to create new economic opportunities for existing and prospective local businesses.
Active Transportation Plan Documents!
Click the links below to see each section of the Active Transportation plan completed:
Paper #4 - Education and Encouragement
For additional information, be sure to follow this page and the City's social media feeds to stay connected. In the meantime, we encourage you to read the Frequently Asked Questions (FAQ) about the Active Transportation Plan.
Public Information Session - Nov 2021
With the major project components compelted, WSP Canada conducted a virtual public information session on November 4th. That session is available to watch on the City's Youtube page at the following link: https://youtu.be/tqi5u_h3-uc
You can also check out the interactive Miro Board and place comments around the maps. Let us know what you think at this link: https://miro.com/app/board/o9J_lnwbKd4=/
---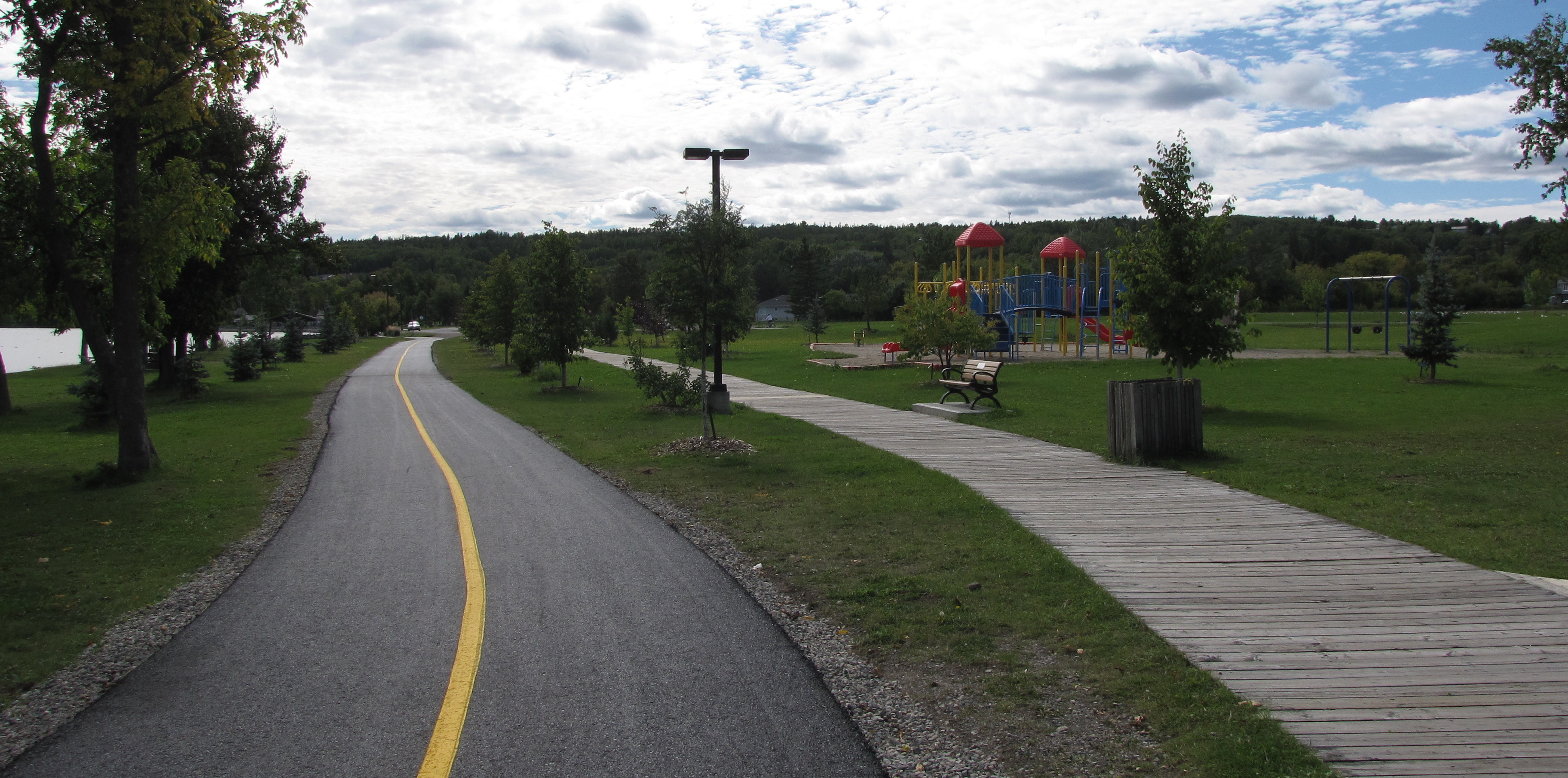 ---
Frequently Asked Questions (FAQ)
What is the Active Transportation Plan (ATP)?
The ATP is being prepared to identify and develop an effective approach to promoting active transportation use across all parts of the City. Active Transportation is broadly defined as all forms of transportation that are powered directly by you including: walking, running, cycling or rolling. Foundational to the ATP is a prescribed network of integrated on-road and off-road (trail) facilities which enable active transportation users to travel between key destinations safely, conveniently and seamlessly. Additionally, the ATP will identify a suite of educational and promotional programs that increase active transportation's profile and cultural presence within the community. Given the competitiveness of existing municipal finances, the ATP will also feature high-level costing and scheduling for all recommendations to guarantee their cost-effective and feasible delivery.
With a focus on applying a context sensitive approach, the ATP will build upon the guidance of the existing Recreation Master Plan (RMP). This includes the consideration of the plan's recommended expansions of the STATO trail system, which connect to key travel destinations still underserviced by the current trails and active transportation network. Similarly, the ATP will also evaluate the RMP's prescribed trail design guidelines in standards. The ATP will evaluate and confirm the RMP's defined trail hierarchy, comprised of the STATO Trail, Greenway and Community Trail components. Given this context, the ATP will focus on reviewing the feasibility of these existing trail recommendations rather than replacing them. Greater focus will also be placed on identifying ways to improve their access through new on-road and connecting off-road links.
How can I participate?
There are many ways to participate. Take our online survey and/or attend one of our public sessions. We look forward to hearing what you have to say! You can also email your comments about the plan to Mathew Bahm, the City's Project Manager at mbahm@temiskamingshores.ca
Due to COVID-19 public health restrictions on public gatherings, opportunities for involvement will be available online, over the phone, or by mail; however, as public health directives evolve, in-person public consultations may be held.
When will the project be completed?
The Active Transportation Plan will be present to Council for adoption by October 31, 2021.
Who is this active transportation plan for?
The City of Temiskaming Shore's Active Transportation Plan is a project for everyone. By coming together to create a vision of the City's active transportation network, we are developing a blueprint to effectively identify and support opportunities to be active, outdoors and travel without the use of a personal automobile. This benefits everyone in our communities by promoting healthier lifestyles, safer traffic environments, less strain on local roadways, improved local air quality and greater commerce through new tourist attractions.
What can improved active transportation facilities provide?
Through the Active Transportation Plan, the City of Temiskaming Shores seeks to identify an approach that effectively leverages active transportation to both enhance mobility and provide additional opportunities for recreation and exercise. An improved active transportation system encourages healthier active lifestyles by offering new ways to access and exercise within the City's rich natural landscape. It also facilitates new ways to travel both within and between the City's anchoring communities of New Liskeard, Haileybury and Dymond - fostering greater social cohesion. These benefits not only extend to residents but visitors alike, making improved active transportation equally an asset to the City's established tourism sector.