Posted on Wednesday, June 19, 2019 11:02 AM
I have always been an avid fiction reader, but one day I stumbled across the story of Earnest Shackleton and his 1914-1917 trans-Antarctic Endurance Expedition. Wow! This has to be one of the most incredible adventure stores of all time. I was hooked. I was a young, bored girl living in Victoria with a huge desire for adventure. I started stalking the aisles of our local Carnegie library, always on the search for stories of life on the edge, of struggles and survival, and...
Posted on Wednesday, June 05, 2019 11:26 AM
You don't have to wear your pajamas to renew your library books, but you can!
If you have the internet at home or data on a mobile device, you can renew your books at anytime through the Temiskaming Shores Public Library website. All you need is your library card number, found on the back of your card. If you don't have it, call or stop in during business hours, and we can give it to you.
When you visit our website, click on Catalog in the list next to our logo or under the large picture that says...
Posted on Thursday, September 06, 2018 12:35 PM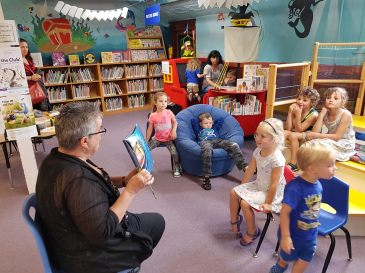 I believe that story time is the most important of all the programs that we offer at the library. This program brings parents, caregivers, and children together, but it also shines a light on the public library's commitment to early literacy and child development for our community.
Recent studies have shown that reading books aloud to children helps develop their reading skills long before they are able to read.
How is library story time different from reading to your children at home?