Taking Action on Greenhouse Gas Reduction
The City of Temiskaming Shores is committed to tackling climate change through ambitious goals to reduce greenhouse gas (GHG) emissions. These targets, set as part of the Partners for Climate Protection (PCP) program, aim to significantly decrease our environmental impact.
Our Targets
We're working towards a 40% reduction in municipal GHG emissions by 2033 and achieving net-zero emissions by 2050. These goals are dynamic and will be continually evaluated to ensure they remain achievable.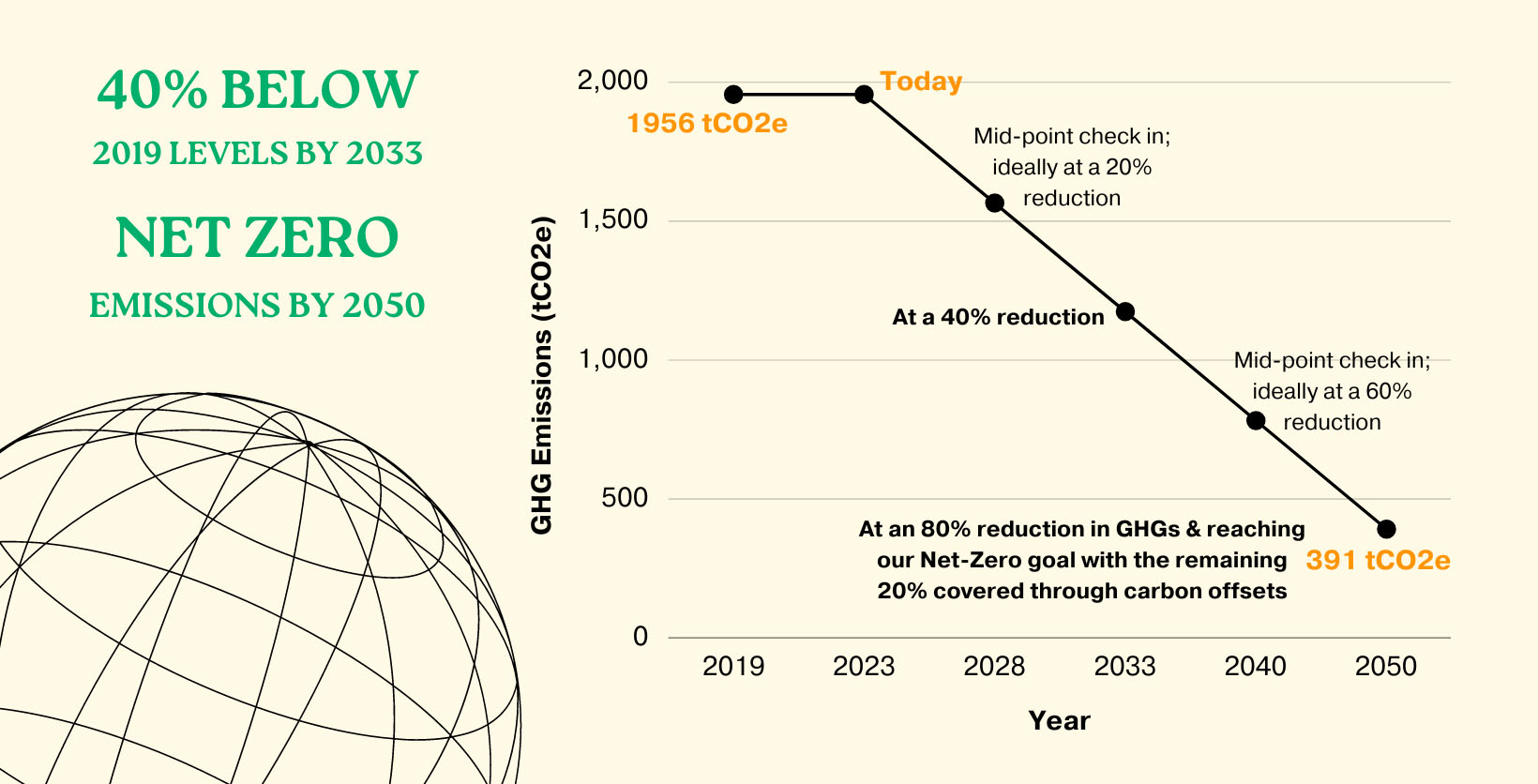 Prioritizing Action
We're focusing on reducing emissions from municipal operations first, where our ability to make changes is most significant. This approach includes adopting measures like transitioning to electric vehicles, using low-carbon fuels, and enhancing the energy efficiency of buildings.
Steps to Success
Our 2019 baseline GHG inventory analysis indicates that we can achieve a 23% reduction from municipal operations with minimal changes. We're confident that with the right strategies, we can achieve this reduction. New green technologies will further contribute to reaching our targets.
Partners for a Greener Future
We joined the Partners for Climate Protection program in 2018, signifying our commitment to emission reductions. Our completed inventory, targets, and action plan set a solid foundation and starting point for our goals. These goals are tracked through the program's milestones, taking place over a ten year period.
Engaging the Community
The City actively sought public input in 2020. The feedback received led to the establishment of the Climate Change Committee, comprising of council members and the public, aiming to collaboratively develop more ambitious reduction targets. This collaborative approach is key to meaningful change.
The Path Forward
Our commitment to climate action is supported by our comprehensive Corporate GHG Reduction Plan. This plan encompasses a review of our baseline inventory, potential reduction opportunities, a timeline for implementation, and a monitoring strategy. It serves as a roadmap to guide us toward our ambitious targets.
Looking Ahead
We're excited to continue this journey, setting targets aligned with federal goals and leveraging innovative strategies to create a sustainable future for the City of Temiskaming Shores. Our commitment, collaboration, and data-driven approach will guide us toward a greener tomorrow!
Corporate Greenhouse Gas Reduction Plan

A Sustainable Path Ahead
Focused Approach: Our corporate emissions breakdown reveals that the fleet (49.9%) and buildings (41.6%) drive emissions most. These sectors are key targets for reduction efforts due to their carbon-intensive fuel use. Other sectors like water facilities and streetlights rely on low-carbon electricity.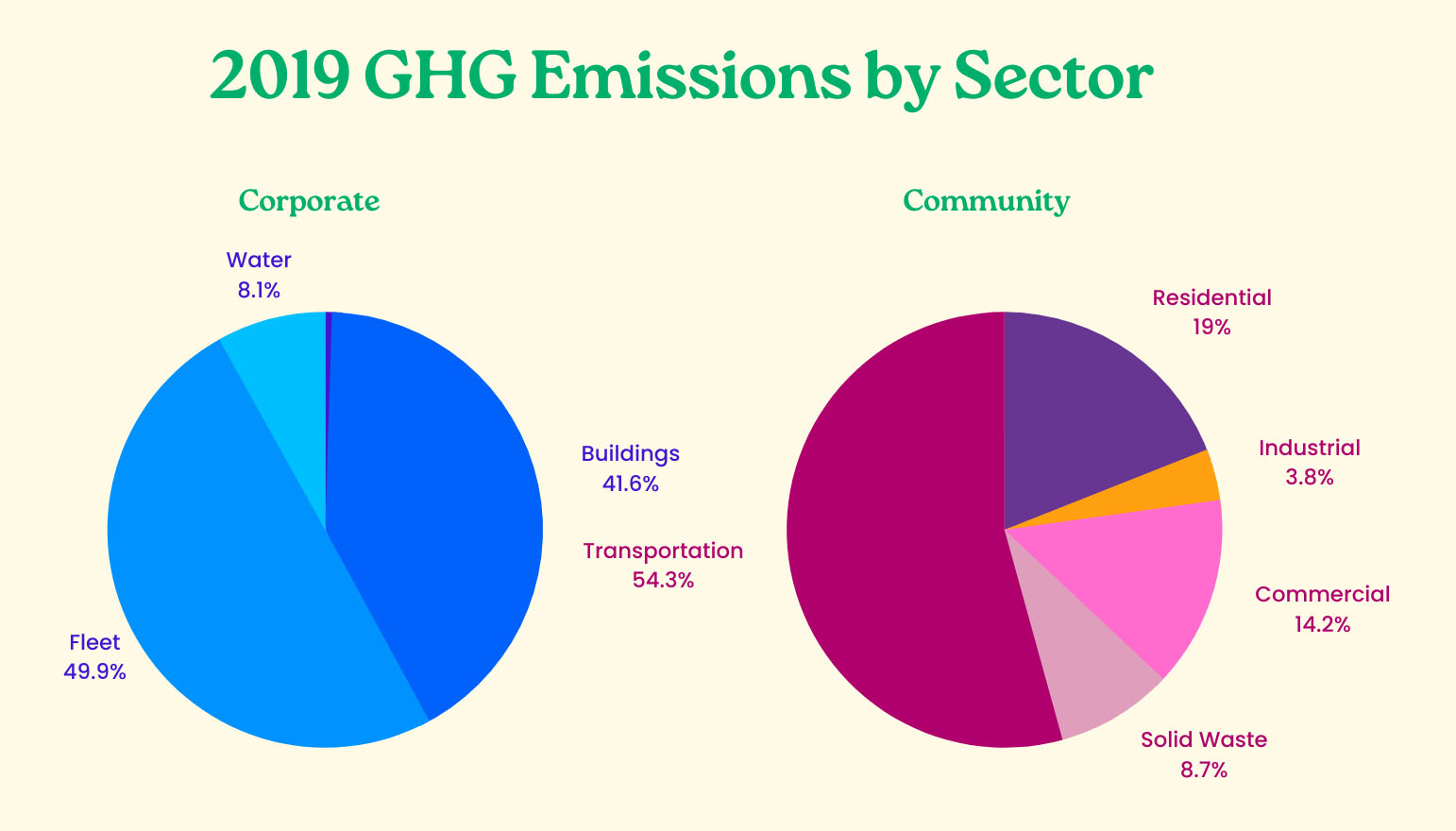 Leading the Change: We've pinpointed three core reduction programs to pave the way towards net-zero by 2050 - electrification, biodiesel fuel switching, and building decarbonization. These initiatives could yield an estimated 23% overall reduction. They're strategically chosen to target high-emission sectors, offer straightforward implementation, and cause minimal disruption to daily operations.
Achieving Goals within Reach: The feasibility of our reduction targets depends on available budget and staff resources. Despite challenges like high costs, we're identifying funding opportunities and expecting savings from reduced energy bills and operating expenses. Over time, the investment in emission reduction pays off financially.
Light-duty Fleet Electrification
This program considers the transition to all electric vehicles (EVs) in the City's light-duty fleet over the span of 5 years. EVs present an initial cost challenge, but they offer long-term savings in operation and maintenance. This program will cut emissions, estimating reductions based on vehicle types and mileage.
Funding and Savings Strategy: Although EVs are pricier upfront, we're strategizing funding. Our fleet replacement plan will be adjusted, gradually increasing allocations. Grants, loans, and potential sources like the Federation of Canadian Municipalities and Government programs are being explored. We anticipate cost savings over time, reinvesting them to cover future EV expenses.
Impressive Results: This plan leads to remarkable emission reductions. Starting from a baseline of 59.72 tCO2e in year 0, by year 5, the program aims to bring emissions down to 2.35 tCO2e – a 96% reduction. Although this directly impacts only 6% of our total corporate vehicle emissions, it's a crucial step in preparing for a sustainable fleet future.
Action Timeline: We're set to launch this program in 2024, planning to complete it by 2029. As the light-duty fleet goes electric, we'll then explore EV opportunities for the medium and heavy-duty fleet, further advancing our green initiatives.
Fuel Switching to Biodiesels
In 2019, the city's diesel consumption reached nearly 297,000 liters, leading to over 803 tons of carbon dioxide equivalent (tCO2e) emissions. Biodiesel presents a more environmentally friendly alternative without needing extensive infrastructure changes.
Why Biodiesel? Most diesel vehicles can run on biodiesel, although there may be blend level limitations that require checking with manufacturers. It's not a permanent solution but offers a lower-carbon option until we can pursue more sustainable alternatives like electrification in the future.
Strategy and Potential Benefits: Following a similar approach to Toronto's successful biodiesel program, we plan to use different biodiesel blends throughout the year. This method resulted in 8.4%-12% annual GHG reduction in Toronto. We expect to see a 7%-10% reduction in emissions with a manageable expense within our budget.
Initiative Timeline
2025: Start testing biodiesel in a few vehicles.
2025-2027: Analyze biodiesel performance and slowly integrate its use into the fleet.
2027: If successful, biodiesel will be adopted in all diesel equipment.
This approach ensures a seamless transition, while also exploring eco-friendly options like electrification and optimization.
Building Decarbonization Projects
Our ambitious building decarbonization initiative aims to reduce emissions from city structures.
Selection Strategy: Based on GHG inventory, we've prioritized 8 buildings (Don Shepherdson Memorial Arena, Shelley Herbert-Shea Memorial Arena, Waterfront Pool and Fitness Centre, City Hall, Riverside Place, Dymond Complex, New Liskeard Public Works Main Garage, and Haileybury Public Works Garage). These buildings are the most GHG intensive and offer the greatest opportunities for decarbonization.
Decarbonization Study: In 2024, we'll conduct a study to understand how best to reduce emissions in these buildings, aiming for a 50% reduction in 10 years and an 80% reduction in 20 years. We expect a corresponding 15% and 23% reduction from our overall corporate baseline in 10 and 20 years, respectively.
Funding and Savings Plan: Funding is being pursued through the Green Municipal Fund's Community Building Retrofit Program. The cost savings from implemented measures could be used for further projects, aligning improvements with regular maintenance, without financial strain.
Expected Outcomes: The expected GHG reductions are 292 tCO2e in 10 years and 467 tCO2e in 20 years. This investment not only creates more efficient buildings but contributes to energy savings and a reduced carbon footprint.
Action Timeline
2024: Start developing decarbonization pathways.
2024-2034: Implement solutions for a 50% reduction.
2024-2044: Continue to an 80% reduction from the baseline.
Post-2033: Reassess and plan for 2050 goals.
The building decarbonization effort is a key part of Temiskaming Shores' sustainable future, offering not only a pathway to greener buildings but also contributing significantly to the city's overall reduction in GHG emissions. By investing in this project now, we're setting ourselves up for long-term success in reducing emissions and saving costs.

View our full Corporate Greenhouse Gas Reduction plan by clicking the link below.
Residential Programs
Natural Resources Canada
Canada Greener Homes Grant - Aiming to curb greenhouse gas emissions, the Canada Greener Homes Grant focuses on making Canadian residences more energy efficient. With up to 700,000 grants offering funding of up to $5,000, homeowners can implement energy-efficient retrofits, including improved insulation, heat pumps, and renewable energy systems to contribute to a greener future.
Canada Greener Homes Interest-free Loan - Enhance your home's energy efficiency and comfort with the Canada Greener Homes Loan. This interest-free financing complements the Canada Greener Homes Grant, supporting major recommended retrofits. The loan, up to $40,000, comes with a 10-year repayment term and is available to eligible homeowners who have completed a pre-retrofit evaluation after April 1, 2020.
Oil to Heat Pump Affordability Program - Is your home heated by oil? Is your household at or below the median household after-tax income? Homeowners who answer "yes" may qualify to receive an upfront payment of up to $10,000 under the Oil to Heat Pump Affordability Program to switch from oil heating to new, energy efficient heat pumps. The Oil to Heat Pump Affordability Program helps Canadian homeowners who are currently heating their homes with oil to transition to electric cold climate air source heat pumps. Making the switch can help you save thousands of dollars on your heating bills every year and help reduce greenhouse gas emissions.
Save on Energy
Energy Affordability Program - Tailored for eligible homeowners, tenants, and social and/or assisted housing providers, this initiative aims to boost energy efficiency in homes and buildings. It features a comprehensive in-home energy assessment, professional installation of energy-saving measures, and expert guidance on additional steps to maximize energy savings.
Enbridge
Home Efficiency Rebate Plus - Unlock thousands in incentives as a homeowner. Benefit from energy-saving upgrades like home insulation, windows and doors, heat pumps and renewable energy systems. Eligible Enbridge customers who use natural gas to heat their homes will benefit from enhanced rebates, while also offsetting the cost of their EnerGuide home evaluation with additional rebates.
Home Winterproofing Program - Qualify for this program and experience up to 30% energy savings through professional installation of new insulation and draft-proofing measures. Lower your energy bills while enhancing home comfort.
Affordable Multi-Family Housing Program - Invest in efficient equipment to cut building energy costs and boost resident comfort. Get incentives up to $200,000 through the custom program when you upgrade equipment and improve energy efficiency.
Smart Thermostat - Make energy savings effortless by installing a Smart Thermostat. This technology utilizes sensors and Wi-Fi to ensure comfort when you're home and efficiency when you're away. Benefit from automatic energy-saving adjustments and convenient maintenance alerts, including filter changes for your furnace. When you invest in an eligible Smart Thermostat, you can claim a $75 incentive. Verify eligibility criteria for more details.
Hydro One
Ultra-Low Overnight Price Plan (ULO) - Try the Hydro One rate calculator to see if you'd be better off financially by making a switch to Tiered pricing or Ultra-Low Overnight pricing. Customers that use more electricity at night, including shift workers and those that electrically heat their home or charge their electric vehicle, could save up to $90 per year by shifting demand to the ultra-low overnight rate period when province-wide electricity demand is lower.
Electric Vehicle Incentives
Zero-Emission Vehicles (iZEV) Program - Discover your path to energy savings and reduced greenhouse gas emissions. Moving to clean zero-emission vehicles (ZEVs) can have a higher upfront cost initially, but the iZEV Program's incentives make it more affordable. By making cleaner transportation accessible, this incentive promotes environmentally friendly vehicle choices.
Consumer Information
Ontario Energy Board - Explore an array of resources, including tools, publications, videos, and tips, on the Ontario Energy Board (OEB) website. Uncover insights designed for individuals and organizations alike, offering a deeper understanding of the energy landscape in Ontario. As the regulator of the province's energy sector, the OEB ensures a level playing field by overseeing energy distribution, pricing, and efficiency. This commitment ensures fairness, transparency, consumer protection, and sustainability within the energy market.
Impacts of Climate Change
What to Expect
Climate change is becoming more noticeable, and understanding its effects on Temiskaming Shores is vital for planning. This data helps us prepare for adaptation and mitigation strategies.
Local Climate Data Source: We gathered climate data from the Climate Atlas of Canada, showing historical trends and projections. These forecasts are based on a "business-as-usual" scenario, reflecting changes without action.
Temperature Shifts
More days with extreme heat (above 30°C).
Fewer extremely cold days (below -30°C).
Implication: Longer, hotter summers and milder winters.
Consequences: Increased forest fires during hot summers impacting air quality and ecosystems. Milder winters could affect snow conditions for winter activities.
Precipitation Changes
Increased spring and fall rainfall, causing heavy runoff.
Short-term summer rain rise, leading to more flooding.
Long-term summer decrease, possibly causing droughts and forest fires due to drier conditions.
Intense winter precipitation causing heavy snowfall.
Result: Damage to infrastructure, risky road conditions, and amplified snowmelt runoff contributing to flooding.
Environmental Impact
Impacts on ecosystems, industries, and vulnerable communities.
Higher flood risk in spring, fall, and short-term summer.
Longer, hotter summers could harm local environments and ecosystems.
Milder winters affect winter tourism and outdoor industries.
These climate shifts, based on a "worst-case" scenario, require action. While longer summers and milder winters may sound appealing, they pose significant challenges. Understanding these changes is crucial for preparing our region against the threats of more intense storms, forest fires, flooding, and ecosystem disruptions. By acknowledging these projected impacts, we can collaborate towards a resilient future for Temiskaming Shores.
Climate Change Adaptation
Embracing Climate Resilience
Climate change adaptation means getting ready for and adjusting to shifts in our environment. By being ready, we can manage the effects of climate change and bolster our ability to bounce back. There are several actions you can embrace to safeguard yourself and your loved ones.
Prepare for Emergencies: With our evolving climate, expect more frequent extreme weather events. Stay ready by:
Stay Safe in Changing Temperatures: As temperatures rise, it's essential to stay informed about heat and cold advisories. Follow the provided guidelines to protect yourself during extreme weather. Keep an eye on alerts for severe storms to ensure your family's readiness. Pay attention to the UV index, which indicates UVB ray intensity. Whenever the index is 3 or higher, take sun protection measures to safeguard your skin.
Monitor Air Quality: Increased wildfires in the region release significant amounts of smoke and pollutants into the air. Poor air quality can have adverse effects on human health, exacerbating respiratory and cardiovascular conditions. Stay informed by checking air quality updates in your area and take proactive steps to help protect your health and well-being when air quality is poor.
Flood Protection: Shielding your home from floods is crucial. Clear out eavestroughs, extend downspouts, and maintain open storm drains. In your basement, elevate valuables in waterproof containers, inspect your sump pump, and ensure floor drains stay unblocked. These steps secure your home against potential flooding.
Monitor Wildfire: Use this interactive fire map which provides a forest fire danger rating as calculated by over 130 weather stations across Ontario's Fire Region. This changes throughout the day to reflect up to date weather information.
Electric Vehicle Charging Stations
The Future is Electric
Within our Greenhouse Gas Reduction Plan, transitioning to low-carbon transportation stands out as a pivotal strategy for curbing community-wide emissions, aligning with our climate targets. The transition to electric vehicles (EVs) brings economic benefits for individuals, businesses, and the City, while also fostering sustainability. Anticipate more charging stations in the next year as we work towards meeting the needs of current and future EV owners.
Current EV charging locations within Temiskaming Shores:
Temiskaming Shores EVStart Charging Station
Connectors (Speed): CCS/SAE (60 kW) x1, CHAdeMO (60 kW) x1
Location: 322 Browning St, Haileybury, ON (beside Ontario Clean Water Agency)
Hours: 24 hours
Ivy Charging Station
Connectors (Speed): CCS/SAE (50 kW) x2, CHAdeMO (50 kW) x2
Location: 998029 ON-11, Temiskaming Shores, ON (Holiday Inn Express & Suites parking lot)
Hours: 24 hours
Electric Circuit Charging Station
Connectors (Speed): J-1772 (7 kW) x1
Location: 138 Whitewood Ave W, New Liskeard, ON (Desjardins parking lot)
Hours: 24 hours
Wilson Chevrolet Buick GMC Charging Station
Connectors (Speed): CCS/SAE (19 kW) x1
Location: 100 Wilson Ave, Temiskaming Shores, ON (north side of building)
Hours: open during regular business hours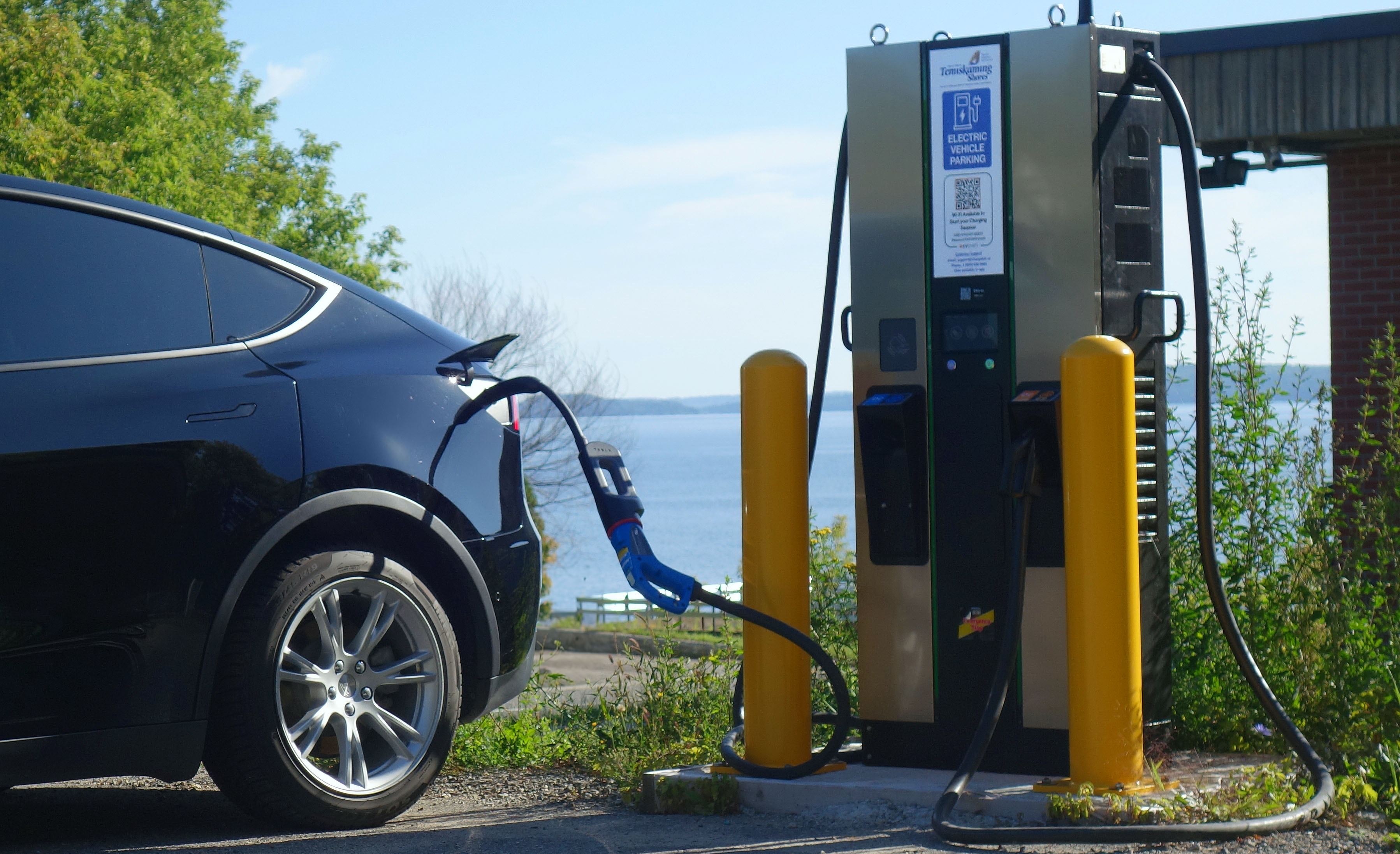 Partners for Climate Protection Program
A Path Towards a Better Future
The City of Temiskaming Shores is a member of the Partners for Climate Protection (PCP) program. Led by ICLEI – Local Governments for Sustainability and the Federation of Canadian Municipalities, PCP empowers municipalities to create positive change by reducing local emissions. The program's 5-step Milestone Framework guides cities in making impactful changes:
Milestone 1: Create a Baseline Emissions Inventory and Forecast (Completed November 2022)
Milestone 2: Set Emissions Reduction Targets (Completed April 2023)
Milestone 3: Develop a Local Action Plan (Completed June 2023)
Milestone 4: Implement the Local Action Plan
Milestone 5: Monitor Progress and Report Results
Aligned with the Intergovernmental Panel on Climate Change (IPCC), PCP helps municipalities achieve ambitious goals. It's user-friendly, free, and offers resources like the PCP Secretariat, an online hub, and the Milestone Tool. By simplifying and encouraging climate action, the PCP program enables Canadian cities to play a vital role in combating climate change.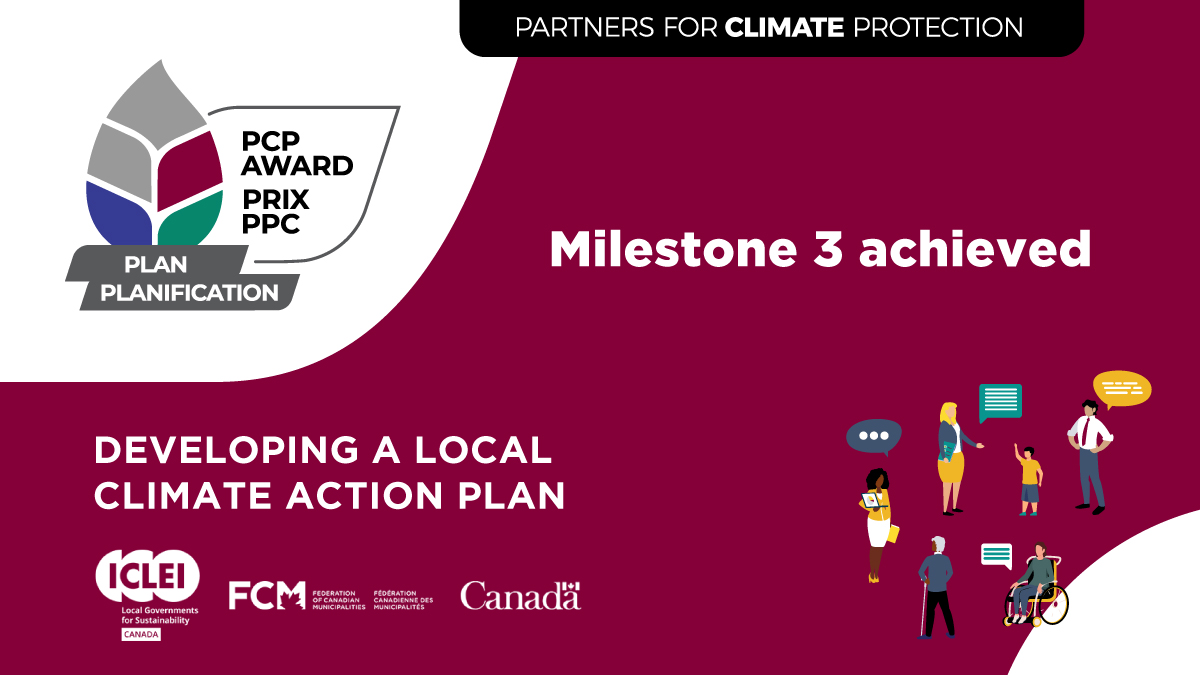 Energy Consumption & Greenhouse Gas Emissions
Energy Management Plan
The Ministry of Energy has passed a regulation under the Green Energy Act, 2009, that requires Ontario's public agencies to demonstrate the leadership role government plays in energy conservation. The regulation provides the Ontario government and public agencies with valuable information on how energy is used within each sector, allowing organizations to benchmark their facilities to similar facilities.
The Green Energy Act Regulation 397/11, requires public agencies to prepare and publish the following documents:
1) Annual reports on the energy consumption and greenhouse gas (GHG) emissions from the operation of specific City facilities; and
2) A report outlining plans for the identification and implementation of energy conservation and demand management projects throughout City facilities. The first report was released in July 2014 and will be updated every five years thereafter.
Annual Reports
What You Can Do
Eco Tips
Ready to make a positive environmental impact but not sure where to start? Here's how you, as a resident, can play a vital role in taking climate action and embracing sustainability.
Reduce Energy Usage: Unplug devices when not in use, switch to LED bulbs, and adjust your thermostat to save energy and lower emissions.
Conserve Water: Fix leaks promptly, use a timer for showers, and collect rainwater for plants to reduce water consumption.
Cut Down on Waste: Embrace recycling, composting, and reducing single-use plastics. Bring reusable bags, bottles, and containers when you're out and about.
Opt for Sustainable Transport: Choose walking, biking, carpooling, or public transportation whenever possible to reduce carbon emissions from vehicles. Consider switching to an electric vehicle.
Support Local and Eco-Friendly Products: Buy local produce, choose products with minimal packaging, and opt for eco-friendly cleaning and personal care items.
Plant Trees and Greens: Enhance your surroundings by planting native trees and plants. They absorb carbon dioxide and provide essential habitats.
Participate in Community Efforts: Join local clean-up events, recycling drives, and workshops to connect with like-minded individuals and amplify your impact.
Save on Water and Energy in Your Home: Use energy-efficient appliances, upgrade windows, insulate your home, and consider installing solar panels or a cold-climate heat pump.
Spread the Word: Share your journey towards sustainability with friends, family, and social media to inspire others to take similar actions.
By making small changes in your daily life, you're contributing to a cleaner, greener, and more sustainable future for Temiskaming Shores and beyond. Your efforts matter – let's create a better world together!