Temiskaming Shores Recreation Master Plan
The Recreation Master Plan for the City of Temiskaming Shores pulls together all aspects of sports and recreation within the City and provides guidance on how to best provide recreation services to the community. The creation of the plan began in October 2019 and culminated with its adoption by council in September 2020. Pulling together unprecedented community engagement and consultation this is truly a made in Temiskaming Shores document.
Click here to view the Recreation Master Plan
---
Community Parks

The City of Temiskaming Shores has a wide variety of parks of all shapes, sizes and locations. Most residents within the urban cores live within a ten minute walk from a park with amenities. Larger play structures and amenities are located on the New Liskeard and Haileybury waterfronts where great views of Lake Temiskaming combine with amazing recreation amenities for all ages. Many of our playgrounds have been updated recently with CSA approved equipment and soft rubber surfacing. Get out today and see just what Temiskaming Shores has to offer you!
Memorial Benches and Trees
The City of Temiskaming Shores offers the public a chance to place Memorial Benches and Trees within greenspaces around the municipality. Full details on the program are explained within By-Law 2020-114. If you're interested in purchasing a bench or tree please fill out and return the application form. Applications are accepted from January 1st to April 15th each year.
---
Temiskaming Shores Rotary Splash Pad
The Temiskaming Shores and Area Rotary Club partnered with the City of Temiskaming Shores in 2017 to develop a splash pad within the community. A site on the New Liskeard Waterfront next to the Spurline Building was selected as the preferred location for the project. This area is already a popular summer recreation spot and will only serve to supplement the amenities already available. After three years of fundraising, construction on the project is slated to begin in 2021.
Thanks to our many funders who have helped to make this project a reality. Stay tuned to our social media channels for more exciting information as construction begins.
Additional funds are still being accepted to make our splash pad even better. Donate today by clicking the paypal link below.
---
Beaches

The City of Temiskaming Shores has two municipal beaches on beautiful Lake Temiskaming. The Haileybury Beach located in downtown Haileybury is a completely enclosed, sand beach, with treated water, large waterslide, changerooms and is staffed by lifeguards 7 days per week throughout the season. The beach is typically open from mid-June to the end of August and this one-of-a-kind place is a great spot to cool off during the hot summer months.
Located in New Liskeard is a 0.5 km stretch of sandy beach along Lake Temiskaming's north-west shore. This unsupervised beach is perfect to stop by for a quick dip before enjoying the many amenities located nearby.
---
Pete's Dam

In the spring of 1906, Kalil (Big Pete) Farah embarked upon a project to build a steam power plant that would supply the Town of New Liskeard. Big Pete bought the power site at Chester Falls from Tom Chester and a dam was built above these falls on the south branch of the Wabi River. In 1910, Farah sold Pete's Dam and its assets to the Northern Ontario Light and Power Company. New Liskeard then received its power from the line that linked them to Cobalt, its neighbour to the south. The power plant went out of service in the 1920's and was sold to the Hydro Electric Power Commission of Ontario. In 1981, Dymond Township bought the property and it is now known as Pete's Dam Park. The little electric plant no longer exists but the beauty of the waterfall and rapids draws many locals and visitors for picnicking and hiking. The park boasts an easy 2.4 km hike along the river with many amazing views. A picnic shelter and parking lot are available at the trailhead off Pete's Dam Road.
---
Devil's Rock (Mani-doo Aja-bikong) Trail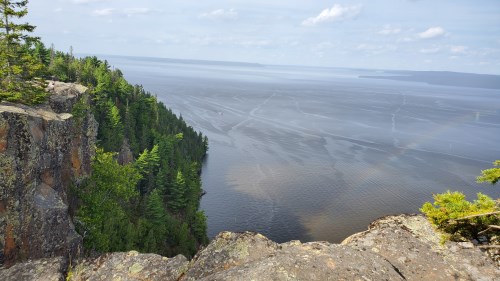 The Devils Rock Trail system is an easy 2 km hike from Highway 567 or a very scenic 3 km climb from Bucke Park. Trails lead to the breathtaking view of Lake Temiskaming!
After hiking the safe and scenic route, enjoy the 180 degree vista of Lake Temiskaming from atop the towering cliff. Devil's Rock is a fault cliff dated to 2.2 billion years. It has a face of 600 feet rising 300 feet above the water level. Interesting features are the scars of mining tunnels chiseled during the silver rush era. Please use caution while on the trail and at the vista.
---
South Temiskaming Active Travel Organization (STATO Trail)
In 2004, The South Temiskaming Active Travel Organization (STATO) was formed as a result of community members' interest in promotion and development of an active participative transportation routes through the City of Temiskaming Shores highlighting the waterfront.
In 2005, The City of Temiskaming Shores approved the process of establishing a multi-use trail/linear park and in 2006, a by-law to establish a linear park/Active Travel maintenance program for the Corporation of the City of Temiskaming Shores was adopted. Council determined that a Community Health and Wellness/Healthy Community Design would be incorporated into the City's new Official Plan Process.
At that point, STATO initiated a community-wide citizens' engagement process and we focused our energies from 2007 to 2015 on fundraising, including a yearly fashion show and ice fishing derby, walk-run-bike events, hockey and golf tournaments, numerous sales, galas, musical events, amazing races, auctions, private donations, Government funding, and more.
In 2008, we began the construction of 20 kilometers of paved bike path, complete with bollards, rumble strips, lines and stamping. We continue to work towards our vision of linking the trail to schools, fitness facilities, and different parts of town to make it more accessible.
To date, almost 21.4km has been completed and the surfaced trail is accessible to all residents and visitors, is wheel chair accessible and provides for recreational opportunities to people of all walks of life. Residents of and visitors to Temiskaming Shores can enjoy the benefits of walking, strolling, cycling, jogging, roller blading and other non-motorized activities throughout the City on a safe route.
Through the Bicycle Friendly Community group, we continue to increase awareness and promote physical activity for a healthy community, as well as economic growth and recreation development. You can follow our ongoing activities on our @BikeTemiskamingShores Facebook page.