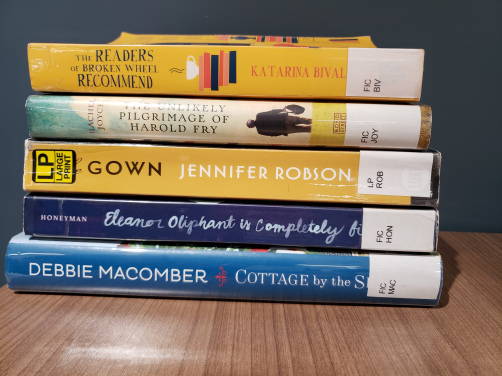 Posted on Wednesday, October 07, 2020 06:30 AM
I hope everyone has a Happy Thanksgiving despite all the changes and protocols to follow in our "new normal".
There is still lots for all of us to be thankful for, even if it feels like we have to look a lot harder and deeper than we used to.
Here at the Temiskaming Shores Public Library, we are truly grateful for our patrons. You are all part of our library family. Without all of you, where would we be? While we were closed due to Covid-19, packing to move, moving, and setting up in our new location,...
Posted on Wednesday, September 30, 2020 06:40 AM
I grew up in the library. From toddler to teen, and now into adulthood, the Temiskaming Shores Public Library has been my place of solace and inspiration. In my early days, I loved walking to the library with my family to check out books and movies. The smell of the building is one I can still recall (must, sunshine, and the mingled scent of books old and new). Some people might be turned off by that description, but I love it! I remember the clerks being so friendly and helpful (some I now work...
Posted on Wednesday, September 16, 2020 06:49 AM
I live in a beautiful farming town, and thus we have many farmers and farms. I would assume that this was a summer that warmed the cockles of their hearts. It was very warm, sunny, and we had ample rain. My heart was not so happy. This is hard to admit, but I am not a warm weather girl! I found this summer so hot that I spent most of it indoors close to the beloved air conditioners. I am a keen gardener, so keen I may actually be a plant hoarder of sorts, and I do love to putter in the garden. At...
Posted on Wednesday, September 09, 2020 01:18 PM
On behalf of the board and staff of the Temiskaming Shores Public Library, I would like to welcome everyone to our new space at 285 Whitewood Ave. West in Temiskaming Shores. It has been a long nearly six months since we closed due to COVID-19 in early March. During our closure, staff took courses on small library operations and programming, and maintained our online resources, such as our e-book and e-magazine subscriptions. We also fielded questions about the library service, renewed memberships...
Posted on Monday, August 31, 2020 12:27 PM
Welcome back to our blog! Covid-19 has slowed us down a bit, but we are eager to get to posting regularly once again. I had this entry written and ready to post in April, but then we closed and it lay forgotten. Therefore, I thought I would post it now rather than waiting for next April to roll around again.
For those who are unaware, April is National Poetry Month. I'm thankful that there is an entire month dedicated to poetry, as the great poets (past & present) have utilized their words to...