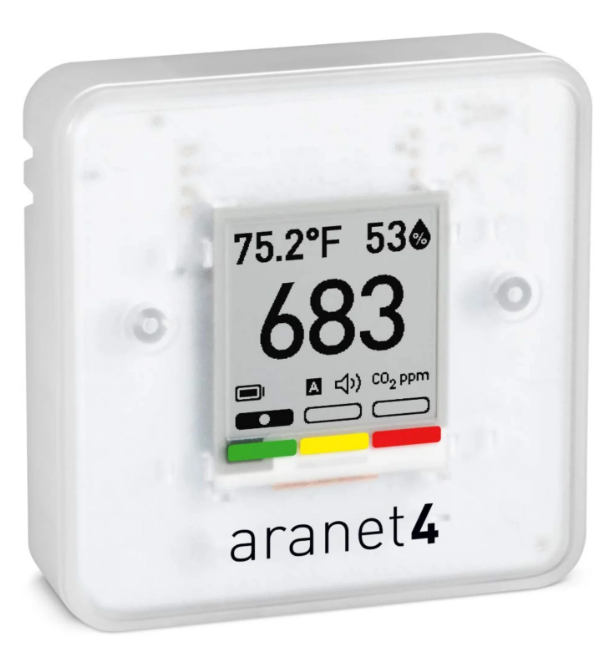 Temiskaming Shores Public Library cardholders can now borrow a Carbon Dioxide (CO2) monitor to measure levels of CO2 in their homes and offices. The library began the program after learning of similar programs at the Peterborough and Toronto Public Libraries. Working with the City of Temiskaming Shores Recreation Department, the program was able to secure a donation of three Aranet4 Home Indoor Air Quality monitors from Rise.
CO2 is a gas that is produced when people exhale. As people remain in a room, CO2 levels increase if there is not enough outside air coming into the space. High indoor CO2 levels can cause various symptoms including tiredness and headaches and indicate that a space is not well ventilated. High CO2 levels can also facilitate the spread of airborne pathogens. The devices do not detect CO (Carbon Monoxide) and are not life safety devices.
"The Library learned of the program through the City's Recreation Director," said Library CEO, Rebecca Hunt. "We thought it was a unique and useful tool to use in the home or at the office for people to get a sense of how well ventilated a space is. If people know ventilation is poor they can take measures, such as opening a window or increasing the amount of fresh air coming from their HVAC system."
The Aranet4 Home sensor monitors air quality - CO2, temperature, relative humidity, and atmospheric pressure. The three monitors were generously donated by Rise.
"Many families are concerned about their indoor air quality, whether they have allergies, asthma, environmental sensitivities, or chemical sensitivities. We spend most of our time indoors (about 90%), and the indoor air we breathe can often be 3 or 4 times as polluted as outdoor air. So, prioritizing indoor air quality is of utmost importance in the journey to a healthier home," says Rise CEO, Matt Daigle.
The monitor packages available to borrow include the device, a fact sheet and a quick start guide. The kits can be checked out for three weeks for free by library cardholders over 18 years of age and in good standing. Lost or damaged devices have a replacement fee of $315.
To become a Temiskaming Shores Library cardholder please call us at 705-647-4215 or email us at info@temisklibrary.com.
For more information about Temiskaming Shores Library services, location and hours of operation, visit www.temisklibrary.com.
For more information about CO2 and indoor air quality please visit this page from Peterborough Public Health: https://www.peterboroughpublichealth.ca/your-health/home-health-and-safety/carbon-dioxide-co2/.